The Pioneer Woman's Newest Kitchen Collection Will Make You Ache for Spring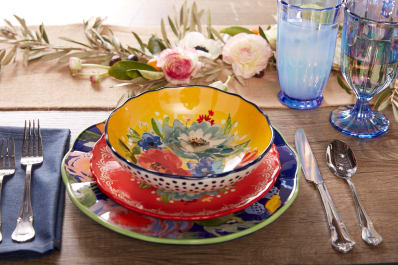 (Image credit: Courtesy of Walmart)
As far as superpowers go, Pioneer Woman Ree Drummond's supernatural ability to make people want to buy things is a pretty good one. Case in point? She just released the commercial for her new Pioneer Woman Spring collection at Walmart, and I sat upright and said, "I need flower dishes!"
I know what you're thinking. "Florals for spring. Groundbreaking." But Drummond's mismatched flower plates and ceramic measuring cups are bright, warm, and quirky, and they made me realize just how much I'm sick of winter at this point.
Drummond shot the video for her new commercial in the big kitchen at her Lodge, where she films her cooking shows. It doesn't look like it is ever winter in the Lodge. Drummond lives in a perpetual spring full of fresh flowers and warm lighting, and for some reason that really makes me want to buy a novelty cookie jar shaped like Ree Drummond's dog.
Drummond's daughter Paige makes a cameo in the commercial, and so does her dog Henry. It's to the collection's credit that the housewares are not upstaged by the cute puppy.
She also posted about her favorite design from the new pattern from the set as well.
The Pioneer Woman's Spring collection goes on sale in stores and online this week, and it includes 100 items in colorful patterns and vintage floral prints. Some of the other standouts include shimmery pastel mix-and-match glassware, and a mint 10-piece cookware set that would look pretty in any kitchen. The line is exclusively available online and in stores at Walmart.
The whole collection looks like it's made of vintage treasures, especially a red flowered casserole dish that almost exactly matches the shirt Drummond wore in her commercial.
"I cracked up when I saw this photo. I promise that I did not intentionally match my shirt to this casserole dish!" she wrote on her blog. "Ha. I just wore my current favorite floral shirt, not realizing how similar the florals were."
Drummond does not seem to have noticed that the new blue flowered rug in her kitchen also matches her favorite shirt. She definitely has a style. And fans of that style are definitely going to want to check out the Pioneer Woman Spring collection. You don't necessarily need to go full Drummond, but a new set of bright floral kitchen towels or placemats might be just the right thing for spring.
What do you think of the Pioneer Woman's new collection?