Vacation Is the Best Time to Get Your Picky Eater to Try Something New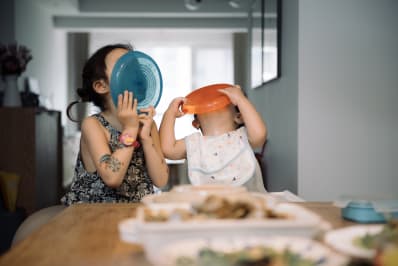 (Image credit: Maa Hoo/Stocksy)
My 6-year-old is transitioning from kindergarten to first grade this summer and suddenly objects to new foods — even some of her old favorites. Generally, this kind of behavior doesn't bother me — kids will have "seasons" where they are more picky than others, and they don't last very long if we as parents keep our cool.
Still, I'm glad that this season of pickiness has arrived during her summer break from school, when we have a few road trips, plane trips, and other excursions planned. It may surprise you, but vacation is my favorite time to get my picky eater to try new foods.
Vacation Is the Best Time to Encourage Picky Eaters
When we travel, everything from screen time to sugar intake is a little more relaxed. Parents and kids alike have their guard down and are more likely to try new things, including foods. Now, I'm not talking about forcing a new food on leery kiddos at all, but vacation is an ideal time and place to encourage adventurous eating.
At home, I find that my kids try more new vegetables at the farmers market when offered by their favorite vendor than at the dinner table. This idea holds true on trips to new markets, grocery stores, and restaurants too.
3 Ways to Encourage Adventurous Eating on Vacation
1. Shop the local markets and try new produce.
Peaches are never going to taste sweeter than they will at a farmers market in the Southern U.S. in August, so it's reasonable to assume that your picky eater is more likely to love them there too. Plus shopping at a local market allows you to stock your Airbnb with fresh snacks and pick up souvenirs too.
Try this: Many vendors at the market offer free samples, so encourage your kids to try those first. Give each kid a few dollars to spend at the market on "vacation" fruits and vegetables — that autonomy is power!
2. Eat with the locals.
Our hometown has a large Basque population, and paella cookouts are regularly open to all in the Basque center. I've never seen my "picky" eater gobble up shrimp faster than when she was alongside her new Basque buddy eating their paella together. I haven't tested the theory yet, but I bet the same is true at other local festivals where regional cuisines and families come together.
Try it: Find a local event that centers around or features local food — fairs are fun, but many have the same foods you can get at home.
3. Try new restaurants and skip the kids' menu.
This tip might only work if you don't have a young eater! Try a restaurant outside your normal rotation and just say there is no kids' menu (nothing against these in general, but they tend to have lots of similar foods) and then guide your kids toward regional flavors that they might like.
Try this: Pick a local (non-chain) restaurant and get dressed up for this occasion Declare it a special date night and tell them they get to order from the whole grown-up menu. Don't fret too much if they end up ordering a burger — when my daughter does this I ask her if we can split an appetizer (my choice) and the burger (her choice) so she'll try something new and get what she wants.
Not every day of vacation should be centered around testing your picky eater, but a relaxed family vacation can be a key place to get your kids out of their own food ruts and get them to try something new.
How do you encourage your kids to be more adventurous eaters at home or away?