The Special Meaning Behind Pickle Christmas Tree Ornaments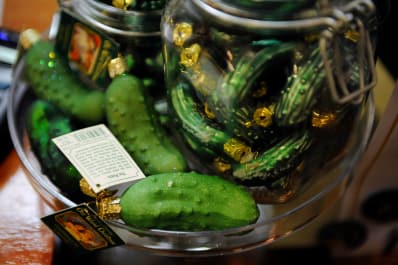 (Image credit: The Washington Post/Getty Images)
Have you ever seen a Christmas tree ornament shaped like a pickle? They're surprisingly popular, and although it seems like they'd be a quirky hipster ornament, like a Christmas tree ornament shaped like bacon or avocado toast, they're actually a long-running tradition in many parts of the country.
According to the New York Times, the pickle ornaments are sometimes called Weinachtsgurke, or Christmas pickles, and they're theoretically a German Christmas tradition. According to legend, the pickle ornament is hidden somewhere on the tree on Christmas Eve, and the first person to find it gets good luck for a year, and they also get to open the first present on Christmas Day. Some versions of the story say whoever finds the pickle gets a special extra present as a pickle-finding bonus.
The funny thing is, it seems like most people in Germany have never actually heard of Christmas pickles. The New York Times says that in a survey of more than 2,000 Germans in 2016, 91 percent of them had never heard of a Christmas pickle.
I lived in Germany for five years and never heard of them. I did see pickle ornaments for sale at the Christmas markets sometimes, but they weren't especially common, and they were usually displayed along with other fun, food-shaped ornaments like watermelons, hot dogs, and eggplants. Nobody ever mentioned a Christmas pickle tradition.
Many Christmas pickles are made in Germany, but they're produced primarily for export.
The pickle tradition might be mostly unknown in Germany, but it's pretty popular in the Midwest. Why, exactly, people started hanging pickles on their Christmas trees in the Midwest is a bit of a mystery, but one explanation that seems likely is that it started as a marketing gimmick.
According to Wide Open Country, F.W. Woolworth started importing German glass Christmas tree ornaments in 1880, and sold the pickle-shaped ornaments along with a card explaining the story.
Christmas pickles may have started out as a marketing gimmick, but it still sounds like a lot of fun. If you're thinking of starting a Christmas pickle tradition in your own family, there are several cute ones available on Amazon and Etsy.
Have you ever seen a Christmas Pickle?
Kitchn supports our readers with carefully chosen product recommendations to improve life at home. You support us through our independently chosen links, many of which earn us a commission.