5 Strategies for Picking the Right Recipes for a Week of Meal Planning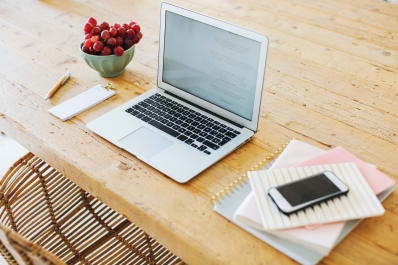 (Image credit: BONNINSTUDIO/Stocksy)
Let's be honest — picking out recipes is the most fun part of meal planning. Part of making my meal planning ritual enjoyable and repeatable is making time at the end of each week to flip through magazines, browse Kitchn's recipe page, and select meals for the following week. It doesn't hurt that I like to do this with a cocktail or a soothing cup of tea in hand, either.
On the flip side, the biggest mistake I see new meal planners make is in the recipe selection. Either they are being too narrow in their recipe selection or skipping a key step (or two) before they even select recipes. There are a few better ways to select the right recipes for your meal plan — here are five of the most common.
(Image credit: didecs/Getty Images)
1. The Let-the-Pantry-Choose Method
This strategy is best for beginner meal planners or anyone who needs to rein in their grocery budget. I use this method for recipe selection right as the seasons change to make room for things we eat more of in the cool weather or warm weather. That means we eat up some freezer staples so we have more room for Popsicles in the summer.
We're big advocates of shopping the pantry, fridge, and freezer first. We call this step "taking stock" and try to practice it every week. Using up pantry staples is a great maneuver when you need to stay on budget or your shelves are being overrun with staples you bought with the best of intentions but never used.
If you're using our meal planning template, fill out the use up section with the items on your list and then choose recipes that use that can of chickpeas, the head of broccoli, and that cheese rind this week.
2. The Calendar-Driven Method
This strategy is best for busy weeks or the weeks when you have multiple schedules to organize.
Look at the calendar and determine your time constraints for the week. Pinpoint an afternoon or evening that you can time block for meal prep. List your recipe needs under each day of the week. An example would be Monday: 30 minutes, Tuesday: make-ahead from Sunday, Wednesday: slow cooker.
Then choose the right recipes for you based on how quickly they can be made, how well they keep for staggered eaters, or if you can make any part of the whole recipe ahead.
(Image credit: Alto Images/ Stocksy)
3. The Meal-Prep Method
This strategy is best for micro-meal planners, people with rebel tendencies, and those of us with erratic appetites and schedules.
Of course, this particular strategy doesn't rely on recipes at all, but rather a collection of curated classics — maybe a few roasted vegetables, some braised chicken thighs, a pot of beans.
Before making a grocery store run and after checking the pantry, check in with yourself. What foods would help you feel your best this week? Maybe you're craving soup but know that you'll reliably eat eggs each day. Plan and shop for those possibilities.
4. Shopping Style
Reverse the shopping and recipe selection and shop first. What's on sale? What produce looks amazing? Shop for two to three proteins and buy six to eight vegetables. Then select your recipes based on your groceries.
This is a great strategy for when you've lost your meal planning mojo and need a hit of inspiration. It's not the always the best method for keeping a strict budget, but it can also be a way to save dollars at the store.
5. The New-Cookbook Strategy
Okay, this last strategy is like the unicorn of meal planning — you've got a clear schedule and all of your grocery budget to explore new-to-you recipes. Maybe you've got a Pinterest board full of ideas or a brand new cookbook you want to try.
We sometimes get so caught up in the utitlity of meal planning that we forget it can be fun and playful too. I find that the more often I plan using one of the other above strategies, the more often I find the rare open weeks on my calendar and I can really relish them with a method of picking recipes like this.
Meal Plan Club with Kitchn
Meal Plan Club is our self-paced 4-week program full of educational posts, downloadable tools, and real-life sample meal plans where we'll walk you through each step of meal planning — from choosing recipes to meal prep and actually executing each meal — to make you a more confident meal planner in just one month. You can follow along here!