Bread Is Older Than Anyone Thought, So Take That, Paleo Diet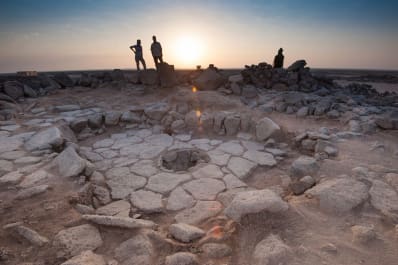 (Image credit: Alexis Pantos)
The next time your Paleo-eating friend tells the waitstaff that your table doesn't need a bread basket, this is your opportunity to go full-on "WELL, ACTUALLY…" A team of archaeology and archaeobotany researchers just discovered a charred, pita-like flatbread at a research site in northeastern Jordan, and this is one history-changing collection of grains, tubers and gluten.
This bread was baked an estimated 14,500 years ago, which tells these researchers that people started making bread more than 4,000 years before they started cultivating plants. It also far precedes the previous "earliest" example of breadmaking, which was found at a Turkish archaeological site that dated back 9,100 years.
"The presence of bread at a site of this age is exceptional," Amaia Arranz-Otaegui, a University of Copenhagen postdoctoral researcher in archaeobotany and lead study author, told Reuters. "We now have to assess whether there was a relationship between bread production and the origins of agriculture. It is possible that bread may have provided an incentive for people to take up plant cultivation and farming, if it became a desirable or much-sought-after food."
I'm no archaeologist, but that makes sense: bread provides an incentive for me to do a lot of things. This bread, though, wasn't the golden, fluffy loaf that most of us are probably imagining (or just craving) right now. It was probably unleavened and resembled pita bread in texture. It was made from wild grains and cereals, as well as "tubers from an aquatic papyrus relative" that were ground and mixed into a fine flour.
According to Haaretz, the researchers found "no less than 24 food remains" that were determined to be "bread-like," including 22 that were found in and around a stone fireplace. (This bread wasn't baked; it was most likely cooked over an open fire.)
Arranz-Otaegui and her team did their best to collect the ingredients in an attempt to recreate it, because how could they not? "The taste of the tubers is quite gritty and salty," she said. "But it is a bit sweet as well."
So go ahead, grab the bread basket and raise a yeast roll to Arranz-Otaegui and her team. TO ARCHAEOLOGY!