Why You Should Always Take the Free Hotel Shower Cap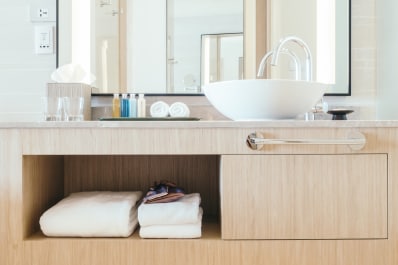 (Image credit: Siraphol/Getty Images)
One thing I love about hotel rooms? All the mini amenities. I love trying out the shampoo and conditioner, gargling with mouthwash that I wouldn't normally use, and finding excuses to break open those little packs of Q-tips. I usually take most of the extras with me, too, since I know the staffers tend to toss them after guests leave — they're handy if I'm traveling someplace where I won't be staying in a hotel, or if I run out of something at home.
And some of these things are handy for more than what you'd expect — specifically the shower cap.
Now, I feel like there are Shower Cap People and No Shower Cap People. My mother-in-law is a Shower Cap Person. I am not, but I still like to take the shower cap. Because even if I'm not not going to wear it, my serving bowls might!
As we get into nicer weather, people love to have dinner and picnics outside. But it can be annoying to serve a buffet- or family-style meal when you have flies buzzing all around your food (not to mention unhygienic, as flies can carry bacteria from one surface to the next). Beyond taking steps to shoo them away with fans and repellents, one of the best things you can do is limit their access to the food sources that attract them in the first place.
Read more: 5 Ways to Keep Flies Away from Your Picnic
My solution is to use a (clean!) shower cap to cover bowls in between serving. The thin plastic will keep flies from getting in, the elastic along the edge stretches to fit most (head-sized) bowls, and it can be pulled on and off all night in a way that's easier than traditional plastic wrap or aluminum foil. At the end of the night, just give the shower cap a rinse and let it dry so you can reuse it another time.