Our Most Popular Baking Lessons of 2017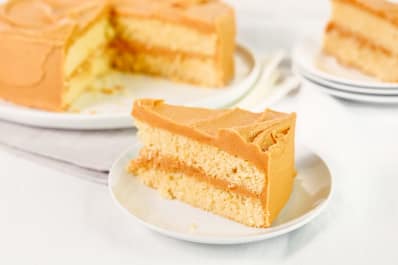 (Image credit: Lauren Volo)
We share a lot of dessert recipes on the site, but our step-by-step baking lessons take a deeper dive into the methods, tips, tricks, and potential pitfalls to bring all sorts of treats to life.
From DIY snack foods to quintessential desserts for the season, these were our most popular baking lessons of the year.
Rockstar bakers, intrepid beginners looking for a project, and lovers of caramel — this is the cake for you. You're going to need a lot of butter, a lot of sugar, and a little bit of patience for this cake, but every single caramel-filled bite will be worth it!
Socca is a traditional dish from Nice, France, and as with many traditional dishes, every home cook has their own technique for cooking the chickpea batter, but the ingredients are almost always the same: chickpea flour, water, and olive oil.
From the first bite to the last slice, tomato pie is sublime: Sharp tomatoes and savory bacon are seasoned with thyme and bathed with mayo and sharp cheese to make a humble pie that's the perfect entrée for your end-of-summer suppers and lazy weekend brunches.
Sure, you can buy them in the store, but making these crispy, buttery, super-cheesy crackers at home is a fun project. To pack in as much cheesiness as possible, this recipe relies on a smart pantry ingredient.
Jammy, fruit-filled cobbler is a summer staple that can be made year-round when you swap in frozen fruit. Get this method down, then bake up this casual dessert with whatever fruit you have handy.
This is a crumb-cake-meets-muffin combo that's directly inspired by the classic bakery breakfast cake. And like their inspiration, these muffins have a fine, delicate crumb with a buttery, vanilla flavor and a thick topping of sweet crumbs.
Crumble is a wildly simple fruit recipe topped with a crisp, buttery crumb topping that turns any fruit into a stunning dessert. Pair it with a buttery-vanilla dessert sauce or a scoop of ice cream to take it over the top.
Lemon bars are always a hit, and this version is our gold standard. Each batch treats you to a buttery shortbread crust that is sturdy but tender enough to bite through and a thick and luscious filling that has just the right balance of sweetness and tang.
KIND Bars are the nut-and-seed snack bar that can curb your craving for a candy bar but don't give you the resulting sugar crash. If you're a DIY-er at heart, these copycat KIND bars will be right up your alley.
For as long as I can remember, whenever I think of birthday cake this is exactly what comes to mind — a tender-crumbed yellow cake covered in chocolate buttercream and finished with plenty of sprinkles.