James Beard-Nominated Chef Wins at Birthdays with This Peppa Pig Cake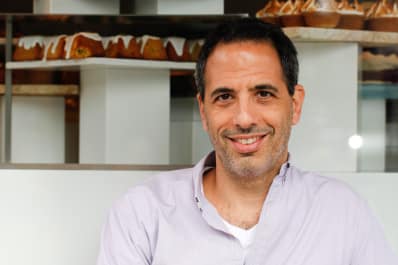 (Image credit: Courtesy Ottolenghi)
My oldest niece turns four later this week and, when I asked my sister what I should pick up for her birthday, she responded with two words: "Peppa Pig." Although my niece has fallen in and out of love with other cartoons — thank goodness she's over her short-lived Caillou phase — Peppa has remained her unrivaled favorite.
I'm in the middle of wrapping some Peppa-themed presents, and wishing that I could send Yotam Ottolenghi to her midweek party. The award-winning, James Beard-nominated cookbook author and restaurateur is also the dad of two young boys, which means that he's more than familiar with that anthropomorphic pig and her ubiquitous red dress.
"Someone's just turned 3," he tweeted. "As much as I'm not a fan of that little pig girl, I had to oblige... #parenthood"
Okay, after reading this several times and realizing that "little pig girl" didn't refer to his own child, I was ready to focus on that incredible Peppa cake. But of course it's incredible: this dude has literally written the book (or one of the books) about desserts; he co-authored Sweet: Desserts from London's Ottolenghi, a cookbook that was both a James Beard finalist and a finalist for the most recent International Association of Culinary Professionals Cookbook Award. He knows what he's doing is what I'm saying.
Several other parents replied to his tweet to commend his efforts, to wish his son a happy birthday, and to share their own attempts at pig-shaped cakes. (Admittedly all of them are way beyond my own capabilities, but that last one looks a little less Peppa and a little more Lord of the Flies).
"In the world, there are two sorts of balloons: the Up Balloon and the Down Balloon," Peppa told her brother George in one balloon-themed episode. I dig that as, like, a broader philosophy about people and life. Personally, I try to be an Up Balloon, but any cake I make will be a definite Down Balloon.
Ottolenghi, if you're reading this, how would you feel about sending a Peppa cake to a stranger's niece? I'd even take some snout-shaped cupcakes!