Oreo's New $20 Music Player Is Actually Kind of Delightful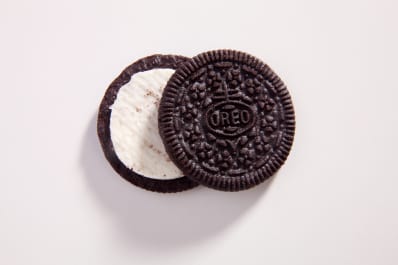 (Image credit: Eskaylim/Getty Images)
If you've ever been tempted to wrap up a package of Oreos, slap it with a sparkly bow, and call it a holiday present for the biggest chocolate sandwich cookie lover in your life, this year that's finally socially acceptable.
The omniscient powers that be at Mondelez have concocted a new (very special) package of Oreos meant to give as a gift. Presenting ... the Oreo Music Box!
As you can see, this is not your average package of Oreos. This is a limited-edition tin that includes a package of White Fudge Oreos, a personal-sized package of regular Oreos, three personal-sized packs of Oreo Thins, AND a teeny, tiny turntable that actually plays music when you put a cookie on it.
Exhibit A:
See the spot where a little record is supposed to go? That's where you put Milk's Favorite Cookie — except I recommend that you skip the milk (for obvious reasons).
The best part? Every time that you take a bite of the cookie, the jingle changes. You can even record your own voice and play that if you dare. Note: I totally volunteer to DJ if that means I get to eat Oreos all night.
I had more fun with this contraption than I care to admit. As you can see, I tried it out with various other, non-Oreo snacks and learned that it works with those too — jellybeans included! I highly recommend this as an actual gift, a White Elephant surprise, or even as a slightly tongue-in-cheek gift idea for that one hipster friend who insists on listening to vinyl exclusively.
What do you think? Does the world need an Oreo record player or no?
Kitchn supports our readers with carefully chosen product recommendations to improve life at home. You support us through our independently chosen links, many of which earn us a commission.