On To the Pantry. What Is This Stuff?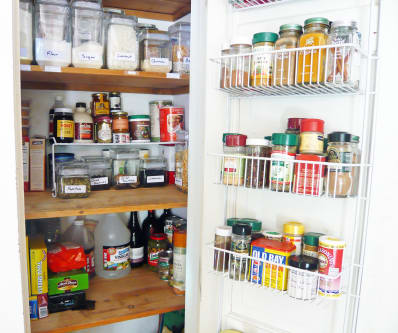 Day 2 Task: Declutter and clean pantry and food storage areas
Who bought this stuff? It can't have been me. Okay. Well. I think we all know it was me. Though my husband will have to claim a few things, jars of who-knows-what he got in gift baskets at work and stuck in there, never to see the light of day again. But it was pretty much me. By the way, the picture above is the "after" picture. Before was just too scary.
There were things in this closet I know I've never seen before. Fine. Yes, we all know I have seen them. When my hand reached for them on the shelf at the store, because I really, really needed to try something new. Which I never actually opened. I checked expiration dates and put them all in one place, my "fun pile." Next time I want to buy a random food product, I'll go home and make something with one of these instead:
There were things in paper bags. (I've been meaning to get canisters for years. Really!) I guess now that it's my actual job to write about organizing the pantry, I'm inspired. World Market had the perfect glass, stackable canisters. And they weren't even expensive. I added labels to the shelves so I would know what was behind the front canister without removing them. Our pantry has deep shelves, and removing the front items to get to the ones in the back will be a bit of a hassle, but I think it'll work. I put the things we use the most in front.
There were duplicates. Because why find the cardamon when you can just go buy more? A real time saver! Not. I consolidated and organized. My shelf categories were a little random — things in pouches, baking related things, ethnic spices, single herbs and spices, blends, random jars and boxes of sardines (which we apparently buy with some regularity, but do not eat), tea the kids like, noodles the kids like for snacks. But, this works. (We would love suggestions for the sardines.)
There were three boxes of food coloring, a product I use very rarely. I have an excuse: One of them I bought years ago, when I was in college, which I know because the label is Canadian. The other two belonged to my grandmother and my mother. When they died, I helped clean their pantries. I hate to waste, and that stuff doesn't really expire. On the bright side, I will probably never need to buy it again.
I put things that went together side by side, to make it easy.
I even cleaned the floor, consolidating our reusable bags and hanging them on hooks. The fire extinguisher is also easy to see and reach. (Is this a good and safe location? I have a feeling Kitchn readers will know. Please let me know if I did it wrong, because safety is a priority!)
One of the best things I did, the thing that may help me actually keep it all together, was buy a three-pack of battery operated stick on lights.
Now I can actually see what I'm getting and the rest of the people in my house may even notice where things are supposed to go!
This was much less traumatic than the first day, in part because we don't keep as much in our pantry as we do in the fridge and freezer. And The Kitchn Cure is making me look at the rest of my space with a gleam in my eye. I cleaned the trash out of my car the other day, because I had a few minutes to spare. It's surprising how little time you need to make a difference!
How are you doing? Are you doing The Kitchn Cure? Are you staying on track?
Join The Kitchn Cure!
SIGN UP
FOLLOW ALONG
SHARE YOUR PROGRESS
Questions? Comments? Pictures? Email us at kitchncure@thekitchn.com
Follow and show your progress on Instagram, Pinterest, Facebook and Twitter! Use The Kitchn Cure hashtag: #kitchncure
(Images: Anne Postic)