On Specialty Fruit Gadgets and Tools: Really Useful or Just Plain Silly?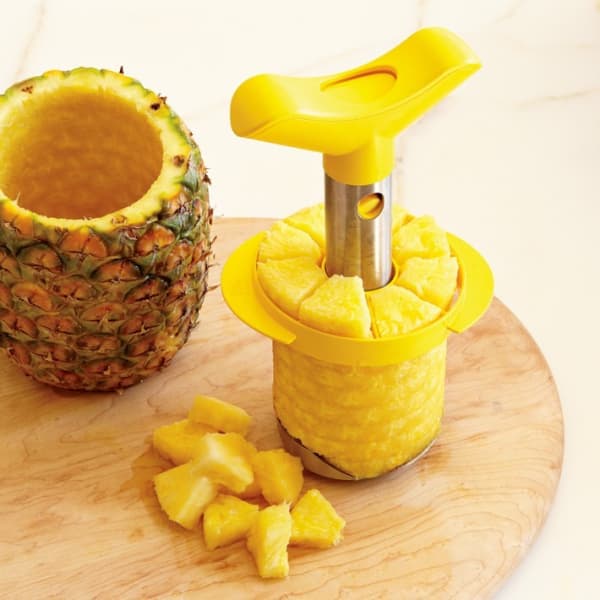 There are some fruit tools and gadgets I find absolutely useful and necessary: a citrus juicer, for example, or a zester. But a strawberry huller? A banana slicer? You be the judge:
Up For Discussion
Which of the following fruit gadgets and tools would you buy? If you own them, defend them! If you don't, tell us why!
TOP ROW
• The Pineapple Easy Slicer, $19.95 from Williams-Sonoma
• Strawberry Huller, $7.95 from Williams-Sonoma
• Stem Spritzer, $4.99 from Quirky
• Fruit and Banana Guards, from Banana Guard
• Boon Nanner Banana Slicer, $15 from AllModern
BOTTOM ROW
• Vacu Vin Kiwi Guard, $6.99 from Amazon
• Rösle Cherry Pitter, $60 from Sur La Table
• Apple Tool, $14.95 from Sur La Table
• Kuhn Rikon Melon Knife Colori, $24.95 from Amazon
For my own part, I have little room in my small kitchen for single-use tools, and I'm also not wild about plastic. If I can get away with using a knife to do the job, even if it takes a little longer, I'm likely to do that. However, I realize that convenience and frequency often trumps all. I'm not likely to buy the pineapple slicer because I don't eat pineapples that often (for seasonal reasons, not because I wouldn't like to!). However, if I lived in a place where pineapples were abundant and a part of my daily diet, then yeah! Absolutely. Sign me up.
What are your buying criteria? Have any of these fruit tools made a world of difference in your cooking life? Or do you find most of them unnecessary or silly?
Related: The 10 Most Useless Kitchen Gadgets
(Images: as linked)
Kitchn supports our readers with carefully chosen product recommendations to improve life at home. You support us through our independently chosen links, many of which earn us a commission.