On Developing an Affection for Dirt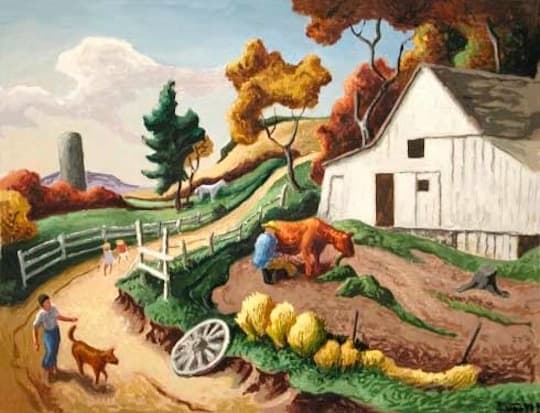 "The problem of sustainability is simple enough to state. It requires that the fertility cycle of birth, growth, maturity, death, and decay--what Albert Howard called "the Wheel of Life"--should turn continuously in place, so that the law of return is kept and nothing is wasted. For this to happen in the stewardship of humans, there must be a cultural cycle, in harmony with the fertility cycle, also continuously turning in place. The cultural cycle is an unending conversation between old people and young people, assuring the survival of local memory, which has, as long as it remains local, the greatest practical urgency and value. This is what is meant, and is all that is meant, by 'sustainability.' The fertility cycle turns by the law of nature. The cultural cycle turns on affection."
-- Wendell Berry
The quote above is from a lecture Wendell Berry gave a few weeks ago as the recipient of the Jefferson Lecture in the Humanities, a very high honor granted to one person a year who has made a significant contribution to the humanities. It's a very moving and relevant talk and I basically think you should just stop reading this and go straight to the National Endowment for the Humanities page and read it in its entirety. But before you do, or just in case you don't, I would like to briefly pick up and emphasize Mr Barry's point about affection and sustainability, and how it relates to dirt.
We value the things we love (or care or have affection for,) and we deepen that affection through contact, and through the intimacy that arrises from that contact. For a farmer who works in the fields every day of the year, soil is not an abstraction. But for those of us who also depend on this soil because it grows the food that we eat, it can be quite abstract. We don't know its smell or texture or its particular shade of brown or black or red. We don't know what has grown in it in previous years, what kind of minerals it is high in or how much rain has fallen on it. And yet without soil, we would die. How can something so intrinsic to our health and life be so removed from our affection? How can that be good for us or the soil or life in general on planet Earth?
I suggest, therefore, that if you eat, then you might want to concern yourself with dirt. You might want to get a little closer to the soil that grows your food, become acquainted with it's scent and secrets. If you don't want to roll around in it, or at least grab a handful and raise it to your nose, then how can you imagine eating something from it? Do not let this fundamental stuff, this absolutely essential substance, remain unknown.
Visit a farm, or your own back yard, or bring a pot of soil home and try to grow something in your window. Enter into the cycle of sustainability. Find the value and urgency that is keeping you alive. Get your hands dirty.
Related: Weekend Meditation: Some People Grow Things
(Image: Thomas Hart Benton)