Sorry, I Just Can't Get Behind Nut Milk in My Coffee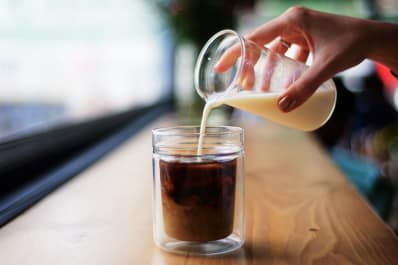 (Image credit: borabakan/Getty Images)
I have multiple friends who swear that giving up dairy has given them more energy, helps regulate their digestion, and makes them feel leaner. Those all seem like great things to me, so I've tried it — I really have (most recently, for a whole week — read about it here).
While there are many instances where I find it easy enough to avoid or substitute out a dairy alternative, there's one place I just can't make the switch: I'm sorry, but I can't get behind nut milk in my coffee.
First, my coffee habits: I have two units of caffeine in the morning, and maybe another one in the afternoon if I'm going out that night, otherwise it interferes with my sleep. ("Out" these days means staying up past 9:30 p.m., on purpose.) I prefer to make lattes for myself — actually, they're probably technically Flat Whites because I can't be bothered to foam the milk — although sometimes I'll have French press coffee if my husband and I are drinking coffee together.
Anyway, because I do lattes ("lattes"), the milk I use in my coffee is important. And over the years, I've experimented with different nut milks in half-hearted efforts to cut down on dairy in my life. Years ago, I switched to soy milk for a while. It was … okay. Not great. Then my kids started drinking milk, so it made sense to have one kind of milk in the fridge instead of multiple, and I started drinking whole milk. Whole milk is delicious! My "lattes" tasted great and, especially in the weeds with young children, felt like a little indulgence to start each sleep-deprived day.
But then almond milk became more of a thing, and cashew milk, and my kids stopped having milk as frequently. So I experimented again. And despite trying a few different brands, at home and at cafes, and even drinking some homemade cashew milk a girlfriend insisted was amazing, none of them compare to a latte made with nice, organic whole milk.
Some of the non-dairy alternatives are good — cashew milk is the best, in my opinion — but none compare to whole milk. Whole milk is delicious! That milk fat makes me feel fuller in the morning, so I can almost wait until noon to eat lunch. It's rich and creamy and perfectly complements my espresso. It doesn't clump up in a weird way, like many nut milks do. And if I take the joy out of my morning coffee, the day starts off as kind of a drag.
If I had to eliminate dairy for health reasons, I'm sure I would find a way to adjust. Perhaps I would forget the pleasures of whole milk. But as long as I can, I'd rather fill my belly with foods and drinks that make me happy than consume something just for the caffeine or fiber or whatever. So I'm sorry, I just can't get behind nut milk in my coffee.
Do you agree? Or are you strongly for almond (or some other non-dairy) milk in coffee?