Inside the Kitchen Cure: Cleaning & Organizing the Pantry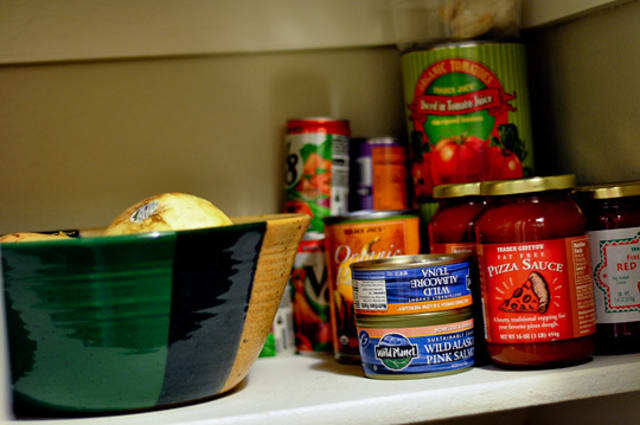 On to the second of our Cure tasks this week: cleaning, decluttering, and re-organizing the pantry. I gave myself plenty of time for this one, knowing it would take a while to sort through all those twisted-up baggies and half-used containers. Admittedly, the photo above is an "after" shot, but read on for the behind the scenes story of how I got there.
My Pantry Situation
I have a fairly narrow galley kitchen with a narrow closet serving as my pantry. There are five separate shelves, and each is vaguely assigned a different cooking category: snacks, dinner staples, baking, and...um...random stuff. Lately, things have fallen into disorder and I've been struggling to find space when I come back from the grocery store (see Photo Evidence #, a.k.a. Shelf of Doom). I've even resorted to clearing another cupboard in the kitchen for the over-flow, which has become equally disorganized (see Photo Evidence #3).
The Plan of Attack
As with my cleaning of the fridge, I decided to remove everything from the cupboards, wipe the shelves down, and re-organize from scratch. I also dug out some shallow plastic containers that were floating around and decided to put them to use as organizing trays.
I'm a chronic hoarder and am reluctant to throw anything out if it still might be potentially useful one day. I have a particularly hard time with dried goods because they keep for so long, often well past the expiration date printed on the package.
So I was extra firm with myself here. I threw away anything and everything that was past its expiration date, even if it still seemed ok. Besides being really not fresh anymore, the fact that these things had been sitting in my pantry for so long is an indication that I'm probably not that interested in using them.
I wish I could tell you this was cathartic, but really it just filled me with remorse for all those meals-that-could-have-been. I threw away a half-used box of whole wheat cous cous that expired two years ago, but of course still smelled fine. I got rid of another package containing a handful of beyond-desiccated dried cranberries that could theoretically be reconstituted, if grudgingly so. A hardened container of malt powder. Baking soda left by a roommate five years ago. In the end, I consigned a grocery bag of ingredients to the trash and took the bag out to the curb before I could second-guess myself.
The End Result
On the highest top shelf, I put my back-up supplies of things like flour, oatmeal, and the like. On the next shelf, I used half for my bins of flour and sugar, and reserved the other half for our snack stash. Below that are all the canned and jar goods I regularly use for dinners. I actually had room to put a pretty bowl for onions on one side!
Next up is the baking shelf. On the right, I put things like honey, molasses, and dried fruit (the packages that survived the purge). On the left, I have a box for all those bags of different sugars, packages of chocolate, and other random baking supplies.
And on the bottom shelf, once my Shelf of Doom (see again Photo Evidence #2), I have all my oils, vinegars, and sauces in a plastic container. Theoretically, this will make them easy to pull out, keep organized, and keep clean. On the other side, I put the random ingredients that didn't fit anywhere else and that I should use up soon. I put them in plain sight so I (hopefully) won't forget about them (again).
Oh, and that overflow cupboard? I turned that into a dry-goods storage. I put all my pastas, dried beans, and grains up there. Very tidy.
The Take-Away
The truly surprising thing about this whole pantry purge and reorganization was how much room I had when it was done. I think this is partly due to getting rid of a lot of the containers that didn't hold very much but took up lots of room. I also think I just have more room than I think, especially when everything is actually organized efficiently.
The plastic bins were a great idea. I really think they will help keep each section contained and organized. Since my shelves are fairly deep, it also helps that I can now slide the whole tray out to get at something in the back.
I'd like to buy something to hang over the back of my pantry door. As I was going in and out, I realized that I have a pretty big space between the door and the edge of the shelves, and I think I could fit some hanging baskets for things like onions and garlic in there.
How did your pantry cleaning go? Any great tips to share?
Related: 10 Pantry Staples Not to be Caught Without
(Image: Emma Christensen)