The $4 Cheese Product I'm Not Embarrassed to Love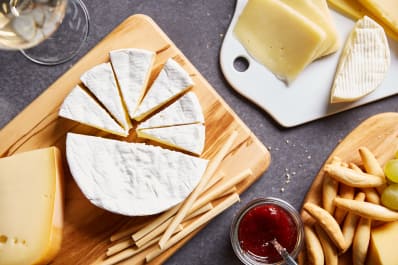 (Image credit: Martí Sans/Stocksy)
Cheese is the best food. (If you disagree, you are entitled to your opinion — you are also entitled to mail me all of your uneaten cheese that you pull off sandwiches and pick out of salads!) While I can spend $50, no problem, on super-fancy wedges at my local cheese shop, I can also happily make a snack out of the less expensive stuff. I'm talking about string cheese, thinly sliced provolone from the deli counter, and even this one thing ... that I'm guessing most of us don't consider worthy of a cheese board.
I'm talking about Easy Cheese. I know, I know. Hear me out! I grew up eating this stuff (back then, we affectionately and not-so-creatively called it "cheese in a can"). My brother and I would squirt out letters to spell out messages on Triscuits (another snack that deserves its own post!), put it on pretzels, or spray the orange goodness directly into our mouths (when our mother wasn't looking). It was one of the few foods we were allowed to eat outside of the kitchen — or rather, it was easy enough to smuggle a can into the basement. And it was basically the gateway cheese that started my expensive cheese habit of today.
Yes, the stuff is processed. Yes, it is an unnatural food. No, I do not eat it on a regular basis. In fact, I'd say I buy a can a year and even that is a generous estimate. It's just one of those things (ditto for this: The $2 Ingredient I Have on Hand for Every Party I Ever Throw) that makes me oh-so-nostalgic. Just looking at the slightly retro can, which hasn't changed much since I was a kid, makes me think fondly about afternoon play sessions with my brother. We aren't super close these days, so they're nice memories to have. Plus, I actually think Easy Cheese is pretty good, all things considered!
The one time of year when I do buy the stuff, it's always because I have people coming over and my friends reliably react the same way: They say that they haven't had the stuff in ages, that they love it, and that it makes them think about being a kid again (not a terrible thing to think about, if you ask me!).
Do you love Easy Cheese as much as I do? Do you have another snack food you're totally nostalgic for? Discuss in the comments below!