Nom Nom Paleo by Michelle Tam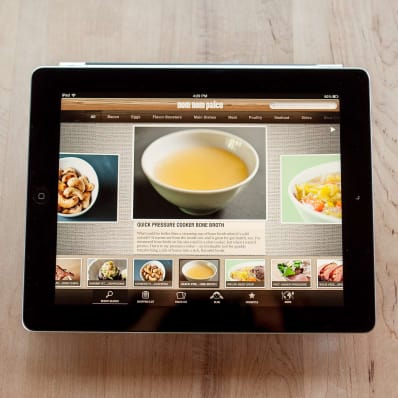 Whether you follow the paleo diet, you're curious about it, or, heck, you just want delicious recipes no matter what diet they happen to fit into, there are plenty of fantastic dishes here for you dive into. Michelle Tam's recipes on her blog Nom Nom Paleo are often Asian-influenced, often California-inspired, and always popping with flavor. The ones she includes in her e-cookbook are no exception.

Quick Facts
• Who wrote it: Michelle Tam
• Who published it: Michelle Tam
• Number of recipes: 128
• Recipes for right now: Slow Roasted Rack of Lamb, Spicy Braised Kale with Carrots, Double-Umami Mushroom Stir-Fry, Madras Chicken Salad, Asian Cauliflower Fried "Rice", Sweet Coconut Pudding, 2x4 Strawberry Banana Ice Cream, Nom Nom Chocolate Truffles, Better Off Bread
• Other highlights: Before I get carried away and geeky about the fun tech aspects of this cookbook app, I want to be sure to talk about the recipes themselves. In short: they're great. Michelle Tam has been developing recipes for her blog Nom Nom Paleo for almost 3 years now and she has her technique down pat.
The recipes are written in clear, straightforward language that makes you feel confident heading into the kitchen. If that weren't enough, each one is accompanied by beautiful photos (that's photos, plural! Also, full disclosure, Michelle won the Best Food Photography cateogry in our Homies Contest a few years back!). These photos not only give me that "make this now!" feeling with practically every recipe, but also show how every step should be done. This is especially helpful in recipes where she uses techniques or equipment that might be unfamiliar to us, like sous vide cooking or using a pressure cooker. She also has a professional chef and recipe tester on call to make sure all the recipes are up to par.
I was most inspired by her main course dishes. Each recipe seems to have some ingredient — some little twist — that makes me instantly hungry. There are a lot of meat recipes, as you'd expect from a paleo book, but the dishes also always incorporate lots of bright, fresh vegetables and flavorful spices. I also really love the base recipes in her "Flavor Booster" section for things like chile lime marinade, Magic Mushroom Powder, Pyro Powder. The names alone make me want to play with them in my dishes, and the descriptions of umami-rich powders and spicy seasonings just add to my desire.
Ok, onto how this app functions as a cookbook! The app opens on a general index of all the recipes. You can scroll through a gallery of full-sized pictures of each recipe or quickly swipe through the thumbnails at the bottom to get to a favorite. If you're not quite sure what you're looking for, you can tap on the tabs along the top to open smaller galleries of main dish recipes, seafood recipes, egg recipes, and so on.
Once you land on the recipe you want to make, tapping its image opens a slideshow gallery that walks you through each step as you make it. Just want the text by itself? No problem. Tapping the "Recipe Card" icon brings that up for you. Within the Recipe Card, you can also add ingredients to your shopping list, see what equipment you'll need, and find out how much time you'll need to set aside to make the recipe. In either the slideshow view or the Recipe Card view, an icon at the top of the page lets you add notes to the recipe, star it to your "Favorites," email the recipe to a friend, or send Michelle feedback.
No matter how many images you tap or galleries you scroll through, the "Home" tab will help you re-trace your steps. A tool bar is also always present at the bottom of the screen to help you navigate to other parts of the book. From here, you can check on your shopping list, get back to the recipe search, or visit Michelle's blog for daily inspiration. As a paleo-curious person, I particularly appreciated the section on Paleo 101, which provides a very approachable and understandable overview of what the Paleo diet is all about.
I loved the experience of walking through this app. It felt very natural and intuitive — surprisingly close to the experience of flipping through a new cookbook and discovering new recipes. If this is the direction that e-cookbooks are heading, I like it. Cookbook publishers trying to break into e-book publishing could learn a lot from this one!
• Who would enjoy this book? People following the paleo diet or who are curious about giving it a try.
Apartment Therapy Media makes every effort to test and review products fairly and transparently. The views expressed in this review are the personal views of the reviewer and this particular product review was not sponsored or paid for in any way by the manufacturer or an agent working on their behalf. However, the manufacturer did give us the product for testing and review purposes.
(Images: Emma Christensen)
Kitchn supports our readers with carefully chosen product recommendations to improve life at home. You support us through our independently chosen links, many of which earn us a commission.