Nobel Glass Travel Thermos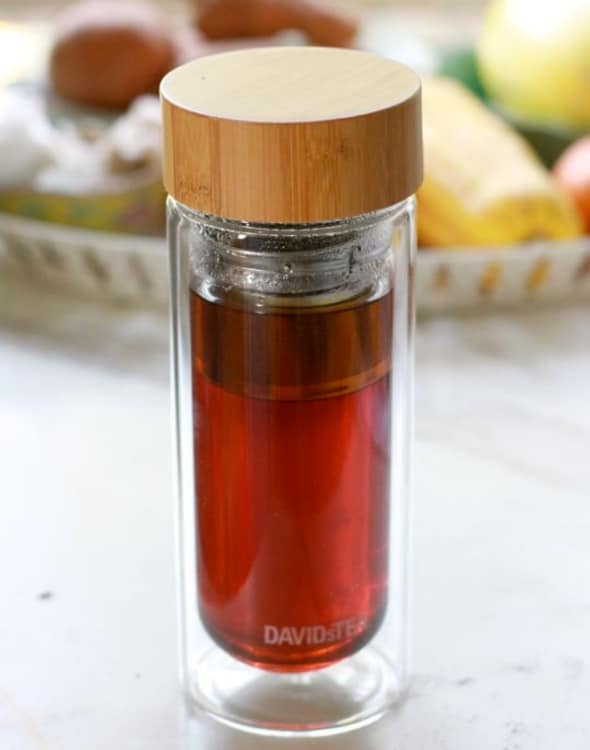 Item: Nobel Glass Travel Thermos
Price: 16oz thermos: $34.50, 12oz thermos: $29.50
Overall Impression: A stylish and functional way to tote your tea!
I have to admit that I was initially drawn to the Nobel Glass Travel Thermos on looks alone. Sleek and elegant, the thermos consists of a simple double-walled glass column topped with a bamboo lid. Even the small etched logo is unobtrusive and sits quietly towards the bottom. But my superficial admiration was quickly followed by curiosity. I had of course seen double-walled glass used in cups and glasses but never in a travel mug. And the little brew basket tucked into the top meant they were pitching it towards people interested in loose leaf, quality tea. This definitely called for further investigation.
The Review
Characteristics and Specs: Made with borosilicate glass, bamboo, and stainless steel; 12 or 16 oz capacity; the body is dishwasher safe, the lid is not; not microwave safe.
Favorite details: The functionality of the double-walled glass, the nicely rounded lip, and the over all simplicity of the design.
Potential problems: The metal brew basket is perhaps a little too small, despite the fact that the box claims it's a new, larger design.
My Nobel Glass Thermos arrived in the mail two weeks ago and I've been putting to through its paces ever since. One of the first things I realized is that it is called a thermos, and not a mug, for a reason. I emphasize this because it doesn't offer two things often found in a travel mug: a sippy-lid and a handle. This doesn't mean that the Nobel can't be directly sipped from, it just means it doesn't have the contoured plastic top that most travel mugs sport these days. I did not find this to be a problem, nor did I miss a handle. But if these are important to you, you may not like this product. (Or maybe you can try this!)
The double glass walls are hand-made from borosilicate glass which means it's super durable and can handle a wide variety of temperatures. (Borosilicate glass is used to make most lab equipment.) The thermos kept my morning tea quite hot while the outer walls remained gently, soothingly warm. The bamboo lid fits nice and snug due to a BPA-free plastic interior. I also appreciate that although it does not have the sippy-cup top, the edges of the glass are smooth and rounded and feel nice to drink from.
My only complaint is that the removable brew basket that fits on the top could be slightly bigger. (The picture to the left, which is from the manufacturer, makes it look much bigger than it is. My photos, above, show a smaller basket in proportion to the thermos.) Loose leaf tea should have lots of room to open up and bloom while brewing and I found my leaves crowded and some were even pushed up and out of the water due to the size of the basket. I've been working with this by using less tea which has helped somewhat. This isn't a deal breaker for me, though, since i don't always use loose leaf tea. Which reminds me, the thermos can of course be used for other hot beverages such as coffee and cold beverages as well.
So in conclusion, even though most mornings my longest journey is from the kitchen to my desk in the next room, my Nobel Glass Travel Thermos is a great companion.
The Nobel Glass Travel Thermos is sold exclusively through DAVIDsTEA, a modern teashop chain with dozens of locations throughout Canada and a smaller US presence through two Manhattan shops. They also have a robust online shop where all of their loose teas and tea accessories can be shipped to Canada and the US. (International shipments can be arranged through their customer service department.)
Find It! Nobel Glass Travel Thermos, 16oz thermos: $34.50, 12oz thermos: $29.50 at DAVIDsTEA
Related: How to Make a Proper Pot of Black Tea
Apartment Therapy Media makes every effort to test and review products fairly and transparently. The views expressed in this review are the personal views of the reviewer and this particular product review was not sponsored or paid for in any way by the manufacturer or an agent working on their behalf. However, the manufacturer did give us the product for testing and review purposes.
(Images: Dana Velden and DAVIDsTEA)
Kitchn supports our readers with carefully chosen product recommendations to improve life at home. You support us through our independently chosen links, many of which earn us a commission.