Nigella Lawson's Watermelon Salad Hits All the Right Notes
We independently select these products—if you buy from one of our links, we may earn a commission. All prices were accurate at the time of publishing.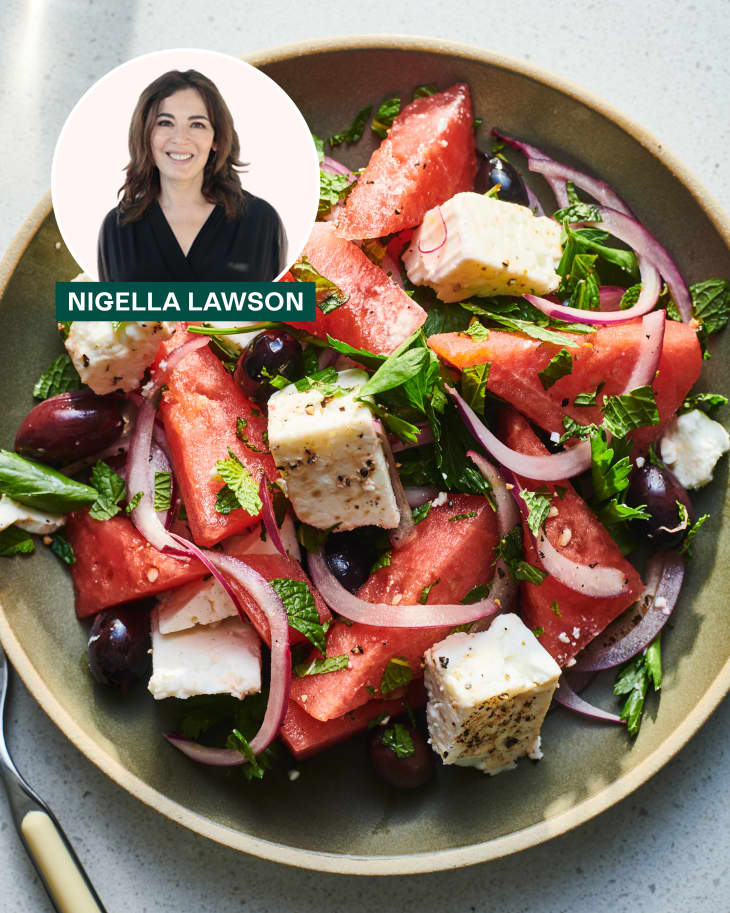 To know me is to know that I love a quickle (quick pickle), so when I noticed that Nigella Lawson's watermelon salad included a quick pickled red onion, I was instantly intrigued. A refreshing watermelon salad with a briny, tangy quick pickle? Sign me up! So I did what any devoted follower of Nigella and quickles would do and I tried it out for myself.

Get the recipe: Nigella Lawson's Watermelon, Feta, and Black Olive Salad
How to Make Nigella Lawson's Watermelon, Feta, and Black Olive Salad
Upon first glance, this recipe looks quite lengthy. Don't worry — Nigella is a conversationalist and her method is written in chatty paragraphs. This recipe isn't any more complicated than your average watermelon salad. 
First, make the quick pickled red onions by slicing them into thin half moons and let them steep in a small bowl with fresh lime juice. Meanwhile, cut the watermelon and feta into similarly sized, triangular chunks. Add in fresh (whole) parsley leaves and chopped fresh mint. Once the red onions have turned a bright pink in their lime juice bath (after about 10 minutes), dump them (along with the juices) into the salad. Drizzle with extra virgin olive oil and pitted black olives. Season with black pepper and enjoy immediately.
My Honest Review of Nigella Lawson's Watermelon, Feta, and Black Olive Salad
I have to hand it to Nigella, because this salad was my favorite watermelon salad. The lightly pickled red onions were tangy, acidic, slightly crunchy, and a delightful savory counterpart to the sweet melon. They came together easily while I assembled the rest of the ingredients for the salad, so it was a pretty efficient use of my time. I loved the combo of mint and parsley, and the whole black olives were a great addition (but maybe not for kids).
There are some salads that benefit from finely chopped ingredients, however watermelon salad is not one of them. I was a bit hesitant about the larger, triangular chunks of watermelon and feta because I thought that they might be cumbersome and difficult to eat. This prediction proved to be incorrect because I quite enjoyed them — not only did I think that they looked great, but I also liked eating the large hunks of feta with bigger bits of watermelon together.
If I Make Nigella Lawson's Watermelon, Feta, and Black Olive Salad Again
My only quibble with this salad is that at no point does she call to season the salad with salt. I wonder if this might be an oversight or if she just assumes that cooks will do this, but the melon definitely needs a little bit of salt. Sure, feta and olives are salty, but not salty enough that I found the salad to be properly seasoned. It doesn't need a ton, but a quick sprinkling of kosher salt brings this salad to a 10/10.