Nigella Lawson Says This Is the Best Vegan Cake Recipe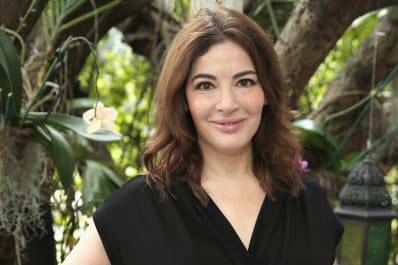 (Image credit: Neilson Barnard/Getty Images)
Vegans deserve good desserts too, but vegan pastries can be very hit-or-miss. Sometimes it feels like every time you try a vegan pastry, you have to flip a coin to see if you wind up with a mouthful of sand.
Well, I have good new for you if you're looking for a successful vegan pastry: The queen of cream and butter — Nigella Lawson — just shared her two favorite recipes for vegan cake.
Recently, one mother on Twitter was so frustrated by her unsuccessful efforts to bake a vegan cake that she wrote to Nigella. She asked her to help her find a recipe for a vegan cake that tastes good and doesn't require a ton of expensive almond meal.
"My daughter is a vegan who wants cake," she wrote. "I keep making cement blocks for her. Vegan cakes never turn out right."
It sounds like the vegan daughter is in for a treat, because Nigella came through with two recommendations: a rich dark chocolate cake, and a light lemony-coconut one.
"Both these vegan cakes are just great," she wrote.
Her dark and sumptuous chocolate cake from Simply Nigella is made with coconut oil in the cake and coconut butter for the icing, although she writes that you could use vegetable oil and vegan margarine instead, if you preferred. It includes espresso powder, chopped pistachios, and edible rose petals, and it's quite an impressive-looking cake, even though it's pretty simple to make. Nigella wrote that it's her go-to chocolate cake even when she doesn't need a recipe that is specifically vegan.
"I now make this as my chocolate cake of choice for people where dietary restrictions are not an issue, and I don't even need to explain it's vegan," she wrote, but she does specify that if you want it to be actually vegan, you need to double-check your cocoa powder to make sure it is vegan and does not contain any sneaky milk or other animal products.
The chocolate cake is dark and rich, but if you are looking to go in the complete opposite direction, Nigella's other vegan cake suggestion is her lemon tendercake with blueberry compote from At My Table. This one is light and fluffy with a fresh, delicate lemon scent. It contains coconut milk, but Nigella says that "comes through as sweetness rather than tropical exuberance."
Based on the comments on Nigella's Twitter, these vegan cake recipes have both been very well-received.
"I have made the lemony one about five or six times and it's always an absolute HIT!" one wrote. "So easy to make, too."
"I can vouch for the choc one," another said. "If I can make it, anyone can."
Kitchn supports our readers with carefully chosen product recommendations to improve life at home. You support us through our independently chosen links, many of which earn us a commission.