Nigella Lawson Always Carries These Two Ingredients in Her Purse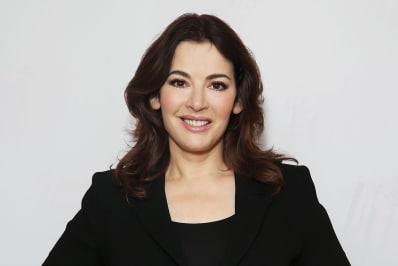 (Image credit: Brendon Thorne/Stringer/Getty Images)
Have you ever tried to ask for Grey Poupon in a restaurant? I will never forget the time I wasn't thinking and said to a server, "Pardon me, do you have any Grey Poupon?" And then he put on a fake British accent and said, "But of course!" Then all my friends laughed, and I felt so silly I made a vow to only ever ask for "spicy mustard" from that point on.
The 2 Ingredients Nigella Keeps in Her Purse
Nigella Lawson never has that problem because, according to Good Housekeeping UK, she always carries a tube of Colman's English Mustard and a tin of Maldon sea salt around in her purse.
Nigella called Colman's English Mustard "the Queen of Condiments." She keeps it in her kitchen in powder form and as already-made mustard, and she loves it so much she says she always brings a tube of it along when she travels.
Buy now: Colman's Mustard, $20 for a 6-pack
"It's very different from either American or French mustard and is fiercely, sinus-clearingly hot," Nigella explains. "Think of it as British wasabi!"
Maldon sea salt comes in large, roughly square-shaped flakes that add a delicately crispy crunch when sprinkled on top of food and dissolve into a wonderful saltiness in your mouth.
Buy now: Maldon Sea Salt Flakes Pinch Tin, $5
"I couldn't cook without Maldon," Nigella says. "I love its mellow saltiness and the softness of its flakes. And I can't eat without it, either: I always have a pinch pot of Maldon in my purse."
Why You Should Take a Page Out of Nigella's Book
Carrying your own condiments might seem a bit unusual, but it's actually really smart. If you know what you like and you're not sure if a restaurant will have it, keeping a stash in your purse ensures you never have to go without it. Sure, you might get a few weird stares, but it's better than sitting down to a meal and spending the whole time thinking about how much better it would be if you just had some Maldon in your pocket!
And Nigella isn't the only one to engage in such behavior: Chrissy Teigen brought a bottle of her own syrup to Clinton St. Baking Company in New York, because they might have the "best pancakes in America," but apparently they don't have Aunt Jemima. And Vogue food writer Jeffrey Steingarten wrote about bringing his own salt in The Man Who Ate Everything.
What about you? Do you keep any ingredients in your purse or handbag?