Nigella Lawson Shares Her Favorite Places to Buy Cookware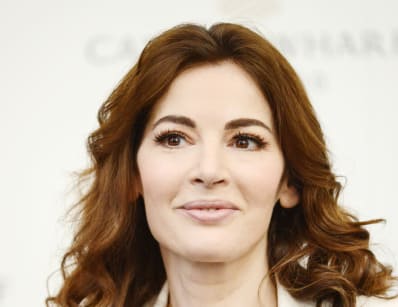 (Image credit: LINGTREN IMAGES/Shutterstock)
Most TV kitchens are gorgeous, but Nigella Lawson's might just stand out above the rest. It's not the biggest or the brightest, but it has great style. I adore her dark walls and gleaming copper surfaces. I even like how it sometimes seems cluttered with her massive collection of bottles, strainers, cast iron waffle makers, and other cooking paraphernalia. It looks like the kitchen of a person who loves to cook and can't help buying cooking gadgets, and I can relate.
In short, Nigella has really good taste in cooking tools and gadgets.
On TV, Nigella is frequently seen cooking with gorgeous, heavy, brushed stainless-steel saucepans with big, square handles. They're great-looking and distinctive, and in a recent interview with the New York Post, she revealed they're by a Finnish brand called Iittala, and she's used them for years.
"I've been cooking with these Finnish saucepans and oven trays for years and they are as sturdy as they are beautiful," she said. "They manage to combine a '70s chunkiness with sleek elegance — they are a cook's dream: They conduct heat excellently and wash up easily."
You can find Iittala tools at Bed Bath & Beyond. The line is pretty pricey, but the pieces are extremely sturdy and dishwasher-safe, and can be used with all stove types, so with proper care they should last a very long time and wear their age well.
Lawson's other favorite cookware brand is no surprise, because it's Le Creuset, and everybody loves Le Creuset. It'd be more shocking to find a food-world luminary who didn't like Le Creuset, but to my knowledge I have not met one yet.
Of course we all know Le Creuset is lovely, but the real question is what color does she like best? A person's favorite Le Creuset color says as much about them as their fingerprints. Do you like black or pink? Or maybe it's even a novelty Mickey Mouse print from one of the recent Disney collabs? Ina Garten's Le Creuset collection looks to be a classy, neutral Dune color, but Nigella Lawson likes the original bright orange.
"I somehow feel that the original 'Volcanique' orange can't be improved on," Lawson explained. "I consider it a bold neutral."
Volcanique is the same as Flame, and it's the original Le Creuset color and the one Julia Child used. And even though it's bright orange, it's basically a neutral, like leopard print. Lawson says she likes to keep hers on open shelves.
And for cocktail time, Lawson likes a Yukiwa copper-plated cocktail shaker.
"This cocktail shaker is so beautiful I don't keep it in the cupboard, but out on gleaming display on my bookshelf, just under some Dickens," Lawson says. The top doubles as a measuring tool, and it's copper, so it goes with everything else in her kitchen.
Kitchn supports our readers with carefully chosen product recommendations to improve life at home. You support us through our independently chosen links, many of which earn us a commission.