Next Week's Meal Plan: 5 Recipes for a Week of Whole30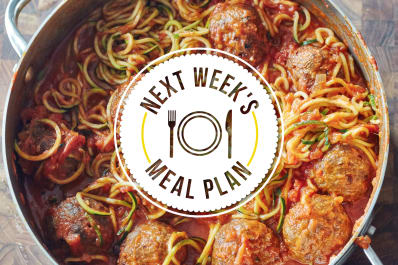 (Image credit: Image: Lauren Volo; Design: Susanna Hopler)
I suspect you might think you won't be eating well on a Whole30, but that's far from the truth. If you think about it, the elements of most fine dining is parallel to Whole30 foods: proteins, vegetables, and delicious dressings or sauces (that can easily be modified to be Whole30!). With a little planning and simple prep work, a week of delicious Whole30 meals awaits you.
These recipes are easy, approachable, and quick. No need for any fussy ingredients — most start with pantry staples.
I find that my success on a Whole30 (or generally eating in a way that works for me) is dependent upon making me feel great in my body and making me really happy while I eat it. Being satisfied with the taste of your food will give you the biggest bang for your buck, and each of these recipes will do just that.
Welcome to This Week's Meal Plan
Monday: Mojo Chicken with Roasted Butternut Squash
Chicken is truly the blank canvas of animal proteins, and frankly I've eaten too many lackluster grilled chicken breasts in my life. But this mojo marinade packs an immense amount of flavor; it includes citrus juice and zest, garlic, and a mix of fresh and dried herbs. You can make the marinade earlier in the week and marinate them a couple hours before you plan to cook them. Simply roast some cubed butternut squash (pre-cut works great here!) with ghee and salt, and add a salad to serve alongside.
My favorite cuisine is Italian. It could be because I'm heavily influenced by Italian culture and I lived and worked on an Italian farm in an earlier stage of my life. Few things are more comforting than a Bolognese sauce. But sometimes I don't feel like fussing over a variety of meats and an entire day of simmering. This recipe uses store-bought sauce and meatballs (just be sure they are both sugar-free!). Serve this on a bed of zucchini noodles or spaghetti squash and I promise you won't be lusting for anything else.
I love a good ol' plain burger seasoned with just salt & pepper and served with the usual crisp veggie fixings. But other times, I crave a luxurious burger. This chicken guacamole recipe is my ticket to that luxury. It's a mix of ground chicken and avocado. When I'm feeling lazy, I bake these babies in the oven instead of grilling. Serve this burger without the cheese (and instead some romesco sauce, if you're feeling fancy, or just some plain mayo) or bun (replace with some delicious roasted sweet potato coins or crisp butter lettuce.)
There are often times when I want nothing more than a big, warm, comforting bowl of soup. I prefer starchy soups, such as variations of butternut squash or sweet potato, and this sweet potato chipotle soup is one of my favorites. It takes a classic fall soup and turns it into something really interesting and complex with Mexican-inspired spices, chipotle peppers, and some acid from fresh lime.
I've been gluten-free for five years, and giving up soy sauce almost made me cry. Thankfully, I found coconut aminos, which is a remarkable soy-sauce alternative (that's also soy-free, unlike the usual gluten-free soy-sauce substitute, tamari) made from the sap of coconuts. You can use coconut aminos one-to-one in place of soy sauce, and it's a great way to have some teriyaki in your life while on your Whole30. This recipe couldn't be easier, as you poach the salmon in an orange-scented "teriyaki" sauce with ginger and garlic. It takes less than 20 minutes, and it's a one-pan dish. Serve with some steamed snap peas or green beans to complete your meal.