Next Week's Meal Plan: 3 Meals to Cook Before Thanksgiving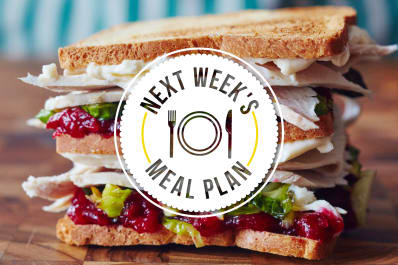 (Image credit: Lauren Volo)
Yes, yes, y'all, I still meal plan the week of Thanksgiving! It keeps us all sane and from blowing through our dining-out budget before the holidays. Luckily with Thanksgiving covering dinner Thursday and probably Friday too, I'll need just a few meals this week.
Here's what my family of four will be eating for dinner leading up to Thanksgiving, as well as a peek at our Thanksgiving menu and plan for leftovers.
Welcome to This Week's Meal Plan
Planning my weekly meals is a habit I enjoy. Since I'm frequently asked by friends and family what I'm cooking for dinner each week, I thought it'd be useful to share my weekly meal plan here. Whether you're just learning to meal plan and looking for a real-life example of how this works or you're an old pro on the hunt for inspiration, here's a peek at how I'm feeding my family this week.
I have to admit, I'd never tried this infamous three-ingredient pasta sauce until just a few weeks ago, but I made a double batch and stashed half in the freezer just for this occasion. We're also having Jersey salad and freezer garlic bread.
These quesadillas are just one step above plain cheese quesadillas in the best way. They feel a bit more substantial while relying on just one other pantry essential. I'm keeping this dinner extra simple and just including guacamole and salsa for dipping, as I plan on cranking out Thanksgiving desserts this evening after dinner.
Here's the beauty of these sandwiches — the chicken cooks in the slow cooker, freeing up the stovetop for Thanksgiving prep, and the slaw is 100 percent based on bagged broccoli slaw. It can be as little as five ingredients if you've got homemade ranch mix on hand already (or you buy your own). Plus, these sandwiches can be eaten at the coffee table while I hog the dining table with Thanksgiving dishes.
Thursday: Fried Chicken Thanksgiving Dinner
I cooked a huge 22-pound turkey last year, as well as three test turkeys this fall. I'm pretty turkey'ed out and, despite my efforts to persuade my family to opt for steaks for dinner, their request was fried chicken. We'll have all the other traditional thanksgiving sides like potatoes with gravy, green bean casserole, stuffing, and sweet potatoes. Honestly, I might still stick a turkey breast in the slow cooker for leftovers too.
Friday: Thanksgiving Leftovers
Writing this has me wondering — why don't we turn Thanksgiving leftovers into pizza? Friday is usually our family pizza night, and I may just give the idea a whirl. Otherwise, it's cold turkey sandwiches for my gang, which I happily look forward to.