I Tried That Viral Sandwich Recipe Tearing the Internet Apart and It Wasn't That Bad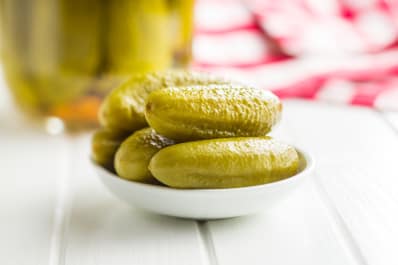 (Image credit: Jiri Hera/Shutterstock)
As a parent, I spend a large part of every day telling my kid not to do things that I do all the time: Don't eat raw cookie dough. Don't eat too much sugar. Don't eat things off the floor. And I am constantly telling my 3-year-old that you can't know if you don't like something if you haven't tried it, but this weekend The New York Times went and called my bluff with a recipe for a peanut butter and pickle sandwich.
This weekend the Times' Twitter account posted a link to an article from 2012 extolling the virtues of a peanut butter and pickle sandwich, which writer Dwight Garner described as "a thrifty and unacknowledged American classic."
It sounded like an elaborate prank, and maybe it was, because the internet certainly had some strong feelings about it.
A few people showed up in the comments to defend the combination of peanut butter and pickles, but for the most part, everybody was having a grand ol' time making fun of the culinary abomination of peanut butter and pickles, and it was hilarious. I was right there with the haters, ready to join in and ask if The New York Times was pregnant.
I wracked my brain to come up with a funny way to describe the disgusting sensation of having peanut butter and pickles in your mouth at the same time, but there was just one problem: I'd never actually tried it.
As I gagged at the mental image of pickles sunk deep in a fat layer of peanut butter, I heard a voice in my head saying, "You can't know if you don't like something if you haven't tried it." It was my voice, and I've probably said that sentence every day for the past three years. If I had a parrot, it would long ago have learned to admonish us against rejecting foods we haven't tried.
I don't force my toddler to eat things, but when she rejects things she's never tasted and says she doesn't like them, I often say that the only way to really know if you don't like something is to try it. We've memorized the Daniel Tiger's Neighborhood episode about, "You've got to try new foods 'cause they might taste good." And yet I was completely convinced that I did not like peanut butter and pickles.
I was not expecting to be confronted with the full extent of my parental hypocrisy by a sandwich, but there we were.
So I tried it. I put peanut butter on bread and sank some sliced dill pickles into it. And I did not go into this experiment with an open mind. Honestly, I wanted it to be awful. I was composing elaborate and creative expressions of disgust and horror for this article before I even took a bite. But I had to throw them away, because it wasn't that bad.
As the Times' Garner argued back in 2012, the pickle's vinegary crunch cuts right through the thick, heavy squishiness of the peanut butter in a way that's actually quite nice. It made me think that I should try putting water chestnuts in my peanut butter sandwiches. The heaviness of the peanut butter takes the harshest edge off the pickle flavors, so it doesn't taste nearly as pickle-y as one might imagine.
Peanut butter and pickles is not my favorite sandwich in the world, but it was not nearly as bad as I was anticipating. A whole sandwich of it might be a bit much, but peanut butter and a pickle on a cracker or a toast point could be nice sometimes. And once again, Daniel Tiger was right: If you try new foods, they might taste good.

What do you think of peanut butter and pickles?