New Year's Cooking Resolutions: How's It Going?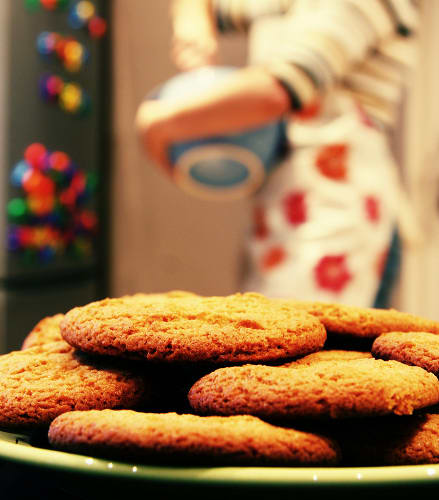 Remember those cooking resolutions we made back in January? We know that resolutions made with the best of intentions at New Year's have a tendency to lose their draw as the months progress, so we thought we'd check in, see how things are going, and share our own progress!
Here's our status update from our original list of resolutions:
• Make Homemade Pasta - As you might remember, we brushed the dust off our pasta maker a few months back and made a very successful batch of pasta. It was delicious and much easier than we thought it would be. Despite that, we haven't made any more pasta since, so unfortunately, we feel that we can only claim partial success on this particular resolution.
• Master the Frittata - We've been quietly working on this one behind the scenes. Our first frittata was a valiant effort, and we've been diligently following the advice you gave us in response and carefully tweaking our technique. We're not ready to call ourselves "masters" yet, but we're well on our way.
• Throw a Dinner Party Every Season - Part of this resolution also involved working to overcome our entertaining anxiety, and we're very happy to report that this has been a success. We've actually thrown several parties in the past few months - more than one a season - and each time, we've concentrated on planning ahead, simplifying the recipe, and toning down our perfectionism. It's definitely getting easier to entertain without anxiety!
• Try New Wines - Another partial success on this one. We've definitely been trying new wines, but it's been a bit haphazard! We intended to keep better records of what we were trying so that we could form a good picture of our tastes and preferences. As it is, we remember to record our tasting impressions maybe half the time. On the plus side, we're much more adventurous in what we try and more willing to take a risk on the recommendation of the wine seller or waiter.
• Cook Recipes from Cookbooks - This is the only resolution that we really dropped the ball on. Since January, we don't think we've cooked a single recipe from any of our cookbooks. What's even worse, we totally forgot that we were intending to! Oh, dear!
So our resolutions for the next few months are to make pasta again, keep better records of our wine-tasting, and make at least three recipes from actual, physical, printed cookbooks!
How have you been doing on your resolutions? Any new ones to add?
Related: Cook Something New This Weekend!
(Image: Flickr member obo-bobolina licensed under Creative Commons)