Hosting a Big Easter Dinner? 5 Lists To Help You Get Ready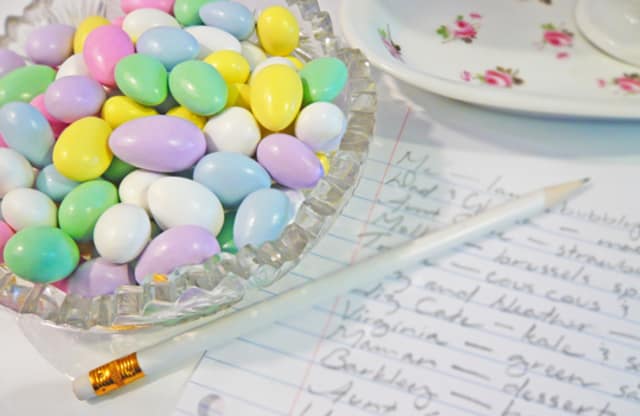 Like every large family, the faces around our holiday table have changed over the years. Faces we loved are gone, and there are new faces that bring us joy. In the last few years, our table has changed a lot, and I'm finally ready to be more organized about it, which is not my strong suit, but you have to grow up some time, right? Easter dinner will be in my dining room — and kitchen, and living room — this year and I'm ready, more or less, thanks to the help of plenty of loved ones. (Okay, I'm not really ready, but I've been eating plenty of Jordan almonds and making lists!)

My First List: People. It started well. My siblings would be there, but my father, his wife, my mother-in-law, my brother and sister-in-law, and their children would be at the beach. I added other relatives and dear friends. We would be about 20 total, which seemed reasonable. Then all the people we thought would be at the beach decided to stay in town on Easter day. The more the merrier! Right? Right!
Second List: Food. Some of our guests love to cook, while others love to choose delicious, readymade dishes from their favorite bakeries and delis. I let the cooks choose a dish and asked others to fill in the blanks.
Third List: Inventory. Luckily, mixing and matching is chic! I don't have enough dishes, cutlery, linens and glassware for 28 people, at least not in the same pattern. I also listed serving pieces, making sure to include that lovely pink flowered vintage stuff of mom's, perfect for spring. 
Fourth List: Lamb recipes. I put myself in charge of this dish, even though I've only made lamb stew. I'm leaning towards one of these.
Fifth List: Furniture to Borrow. I do not have 28 chairs. My sister will be filling her car with extras, and my father has sturdy card tables for the living room, and the linens to cover them.
Most of my dinners in are casual affairs, with fewer guests. A bigger crowd requires more organization, but it will be a lot more fun. Also, I'm totally expecting to have at least one breakdown when I start thinking about how well my mom did this kind of thing, and I'm happy I'll be distracted by fun, food, and dear friends.
How do you do it? Am I missing a list or two? Please share your holiday gathering tips!

Related: Potluck Etiquette: What Are Your Rules?

(Images: Anne Postic)