The Best New Groceries to Hit Supermarket Shelves This March
We
independently
select these products—if you buy from one of our links, we may earn a commission. All prices were accurate at the time of publishing.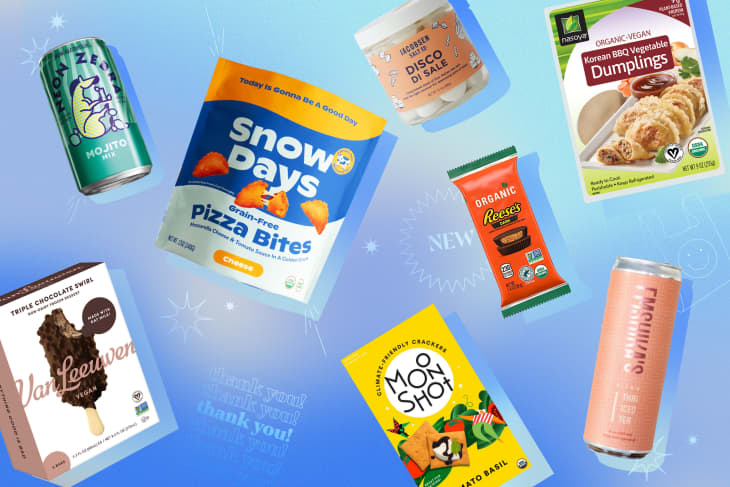 Here at Kitchn, we nerd out over new grocery launches. And while the joy of discovering a new cracker brand to add to your charcuterie boards might not be as thrilling as, say, getting to travel to a long-awaited destination, or hugging your best friends and family, it's not nothing! We still have to celebrate the little things, right?
We're really celebrating March's new grocery releases because … they're extra-fun. We're talking an all-peanut-butter Reese's Peanut Butter Cup, straight-from-the-freezer-aisle-smoothie bowls, climate-friendly crackers, and more.
Here are the 10 new groceries that we're extra pumped about.
1. KIND Frozen Smoothie Bowls 
There are several different freezer-aisle smoothie bowls on the market, but these — from KIND — are the best we've tasted by far. They're a little hard right out of the freezer (like a pint of ice cream), but give 'em a few minutes and you can easily mix together the base and toppings. The Almond + Chocolate Banana flavor was highly reminiscent of ice cream — a major win.
2. Emshika's Original Thai Iced Tea with Oat Milk
This line of nitro-infused beverages, made without artificial colors or sweeteners, hails from Thai-born, NYC-based chef and entrepreneur Emshika Alberini. Somehow, these canned Thai iced teas/lattes hold true to restaurant versions made with condensed milk and sugar, despite the fact that these are dairy-free and sweetened with monk fruit.
3. Moonshot Climate-Friendly Crackers
There's a lot to love about Moonshot Crackers: They're made with wheat grown by farmers implementing regenerative agricultural practices, they're made by a company that was founded by a mom, and they also happen to be delicious with just the right amount of crunch.
4. Reese's Ultimate Peanut Butter Lovers Cups
For many, the peanut butter part is the best part of a Reese's Peanut Butter Cup. So naturally, Hershey's had to make a candy that's all peanut butter! (We're saying "peanut butter" a lot!) If you think this meta treat is going to be too much peanut butter, you're wrong.
5. Van Leeuwen Ice Cream Bars 
In true Van Leeuwen fashion, these new ice cream bars are made with premium ingredients you can recognize while remaining super-indulgent. A thick layer of chocolate enrobes the smooth, dense ice cream, which comes in flavors like Vanilla Caramel Swirl, Brown Sugar Honeycomb, Raspberry Cheesecake, and Triple Chocolate Swirl. There are vegan options, too!
6. Intelligentsia Oat Latte
Who doesn't love a ready-to-drink latte? Intelligentsia's first foray into the category doesn't disappoint. The Oat Latte is creamy and rich, with a strong coffee flavor, while the Oat Spiced Latte gives off definite PSL vibes.
7. Nasoya Korean BBQ Vegetable Dumplings 
When pan-fried, these refrigerated dumplings achieve crispy perfection. While completely vegan, they're full of plant-based protein, so you'll leave the table feeling satisfied.
This launch is Skittles' first gummy product (available in Original and Wild Berry). Let us be the first to tell you that it will blow your mind. They taste exactly Skittles, but have the structural integrity of a squishy gummy.
9. Late July Vegetable Tortilla Chips 
Made with teff seeds and seasoned with cumin and paprika, these chips are immensely flavorful and most definitely don't need to be paired with a dip to taste complete. A salsa verde or pico de gallo would complement the sweet-savory flavor nicely, though.
10. Angry Orchard Peach Mango and Strawberry Cider 
Like other Angry Orchard ciders, these new flavors are easy to drink and come in colorful cans. Making their debut at the perfect time, these sweet, refreshing ciders will be all you want to drink all spring (and summer!) long.
Have you found any great new groceries this month? Tell us about them in the comments below!