The Best New Groceries to Hit Supermarket Shelves This February
We
independently
select these products—if you buy from one of our links, we may earn a commission. All prices were accurate at the time of publishing.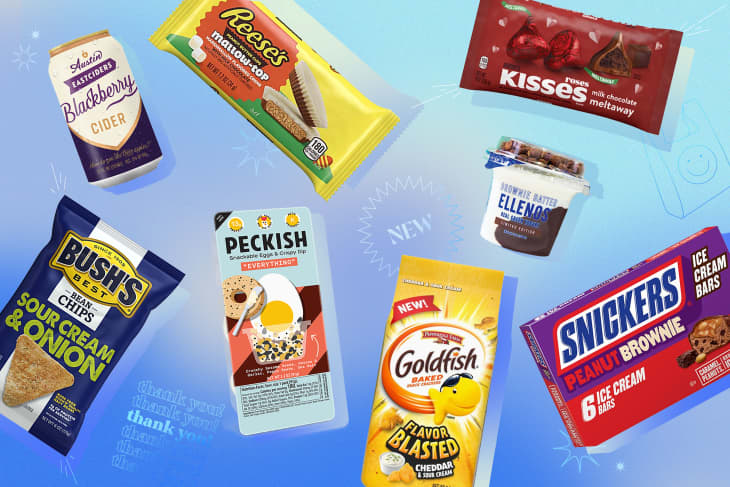 The latest grocery newcomers to hit shelves this February are a fairly mixed bag. (Hey, I'm not complaining: They say variety is the spice of life!) If I had to say there was a theme among all the new stuff, I'd say there was a lot of dessert, snack-time pick-me-ups, and sports-viewing snack spreads. I'm talking ice cream bars, probiotic yogurt, brownie batter yogurt (seriously, lots of yogurt), blackberry cider, and shelf-stable hard-boiled eggs (with a twist).
Of all the new groceries I tried, here are eight of my favorites. I suggest keeping an eye out for these the next time you're in the grocery store.
1. Snickers Peanut Brownie Ice Cream
I managed to work my way through a box of these frozen chocolate ice cream bars in a shockingly short amount of time. I love the OG Snickers Peanut Ice Cream bars, but this brownie twist became an instant favorite. There are chewy brownie bits mixed inside!
On busy mornings and after sweaty workouts, these packaged snack-able eggs hit the spot. Each pack contains two ready-to-eat (no peeling required) free-range, non-GMO Project Verified eggs and a seasoning packet. You've probably seen these before, so note that there are new flavors! My favorites are Fried Rice (with crispy quinoa, tamari, sesame oil, carrots, and green onions) and Everything (sesame seeds, crispy onions and garlic, poppy seeds, and sea salt).
3. Hershey's Kisses Milk Chocolate Meltaway Roses
These Valentine's Day-themed Hershey's Kisses are packaged in red foil with rose embellishments, plus a green paper flume for good measure. The melt-away center gives these Kisses a truffle-like texture that's just downright luxurious. (Look for them in stores all month — they'll likely go on sale after the holiday! — and snack on them all winter long.)
4. Ellenos Brownie Batter
This Seattle-based Greek yogurt brand's latest flavor release features a decadent chocolate sauce and a chocolate crumble. The best part is the fact that the crumbles stay crunchy even after mixing everything together.
5. Kite Hill Original Almond Milk Yogurt
Most non-dairy yogurts I've tried in the past have a soupy consistency, but these actually mimic yogurt texture-wise. If you get just one flavor, go with the blueberry, which is flecked with the fruit throughout.
6. Chobani Probiotic Daily Yogurt Drink
Part of Chobani's Probiotic line, these drinkable yogurts are packed with gut-friendly bacteria. I feel better every time I start off my day drinking one of these. (Raspberry Acai Berry is my favorite.)
7. So Good So You Immunity Shots
Featuring organic watermelon juice, strawberry juice, pineapple juice, and acerola cherry juice, this cold-pressed juice shot is delicious. It's even sip-able if you don't want to down it all in one go. Each shot has 100 percent of the daily recommended value of Vitamin D and C you need per day and 1 billion CFUs (colony forming units) of probiotics.
8. Austin Eastciders Blackberry Cider
Described as a "cobbler in a can," Austin Eastciders' latest flavor release came highly requested from their customers. It's made with a blend of European bittersweet apples and blackberry juice from California, Oregon, and Washington. I'd recommend pouring this one into a glass so that you can enjoy its beautiful pinky-purple hue.
Have you found any great new groceries this month? Tell us about them in the comments below!