A New Bumpy Food Label Could Help You Minimize Food Waste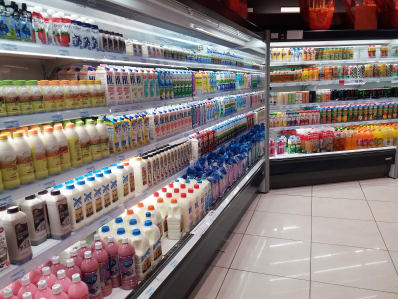 (Image credit: Zety Akhzar/Shutterstock)
Trying to decide whether that about-to-expire milk is still OK to drink is a good way to make breakfast feel a little like Fear Factor. Like, how much do you trust your sense of smell? And how bad do you really want that Cinnamon Toast Crunch? But a Danish dairy company and a London-based food-tech startup have joined forces to launch a new label that will let customers use their fingertips to determine whether it's a good idea to get the cereal bowls out.
Arla Foods, a co-op owned by 11,200 farmers in the UK and Europe, will be testing the Mimica Touch label on its milk, cream, yogurt, and cheese products.
The label is described by its inventors at Mimica as "a biologically accurate food expiry indicator calibrated to experience decay at the same rate as food." Translated into words that people like me understand, this means that as those dairy products get closer to their expiration date, raised bumps will develop on the lids. When you can feel the bumps, it's best to toss that particular product.
The hope is that these labels will cut down on food waste, and might even add an extra three days to those "Sell By" dates.
"[W]ith the Mimica Touch, we would allow supermarkets to display the longer 'expected date' because if something does go wrong, then the label will turn bumpy and the product can be pulled off the shelf," Solveiga Pakštaitė, the founder of Mimica, told FoodIngredientsFirst. "By bringing in a biologically-accurate indicator, more often than not it will prove that our food lasts a lot longer than we think it does, and this has the potential to reduce enormous amounts of food waste."
Oh yeah, Pakštaitė apparently started working on this innovative bumpy label when she was still in college — and last year she was named MIT Technology Review's Inventor of the Year.
Arla will run a trial of the product in supermarkets in the UK later this year, and the company has high hopes for it, because it's easy to use and understand and because its "tactile nature" means that it can be used by visually impaired shoppers as well. "[W]e are excited to see if these benefits can be realized," an Arla spokesperson said.
So far, the only people who seem less-than-excited by this development are vegans. They're upset because Mimica's label is made from gelatin, a crucial ingredient because it reacts to temperature changes and other conditions that lead to early spoilage the way that food does — largely because it's a food industry byproduct. And that's what vegans have a problem with. "It's extremely sad that there's this reliance and acceptance that animal bones and tendons can be used in general products," Juliet Gellatley, the founder of vegan charity Viva!, told the Evening Standard. "We have survived this long without these labels, it just seems unnecessary."
There's always an in-home game of Fear Factor, then.