Here's What Changes in Your Kitchen When You Have a New Baby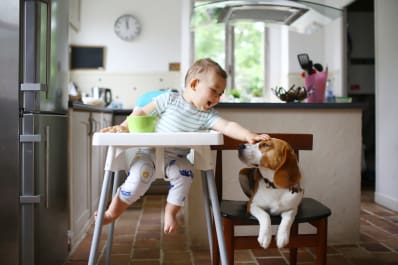 (Image credit: Catherine Delahaye/Getty Images)
People say that everything changes when you have a baby. I mean, sure! Your life is turned upside down! You'll sleep less, socialize less, and do basically everything differently. You'll also notice that you have to change up your kitchen a bit in order to accommodate this precious tiny human that has just joined your household.
Here's what changes in your kitchen when you have a baby.
1. Your freezer will be full of milk.
Either that, or your cabinets will be full of formula. No matter how you're feeding your child, adequate stock is key. And if you're a first-time parent, no amount of stock will ever seem adequate, because worrying about when, how much, and how often your child is eating is an ongoing, all-consuming concern.
2. Your freezer will also be filled with pre-made meals.
If you're lucky (or planned ahead) the rest of your freezer space will be taken up by pre-made frozen dinners that you can reheat when you're absolutely exhausted and there's nothing in your fridge but milk.
3. Your countertops become extra-cluttered.
Whether it's pump parts, bottle parts, baby food makers, or sterilizers, feeding a baby comes with a whole suite of gear that is constantly being cleaned, dried, and/or disinfected. For now, let go of your dreams to keep your countertops free of clutter.
4. Your floors will be cleaner than ever.
Even before your baby starts to crawl, you'll be on the ground with her for tummy time or rolling around — and you'll notice every speck of dust. Start sweeping daily now, because it won't be long before baby starts finding and tasting any crumbs.
5. Your sink will be full of dishes.
No one really understands until they have a child themselves, but there just isn't enough time for sleep. For those first few months, no amount of cleanliness is worth sacrificing just a few stolen minutes of sleep.
6. You'll find a rocker in the kitchen.
Maybe it's not a rocker, but a portable crib, swing, or (when they're older) high chair or booster. The point is, that baby will be in the kitchen with you pretty much from day one. Creating a safe space for your child to watch you cook is key.
7. Your once-safe space will begin to look like a death trap to you.
Knives, cleaning supplies, anything glass or with a plug — basically the kitchen is full of things that can harm your child. You may have loved your space, but now when you look at it all you see are dangers! Before your child learns to crawl, give the space a good walk-through and get your child safety locks and outlet covers in place — because they get mobile way before you're ready.
Did you have a baby recently? How has your kitchen changed since then?