Amy Poehler to Direct and Star in "Wine Country" for Netflix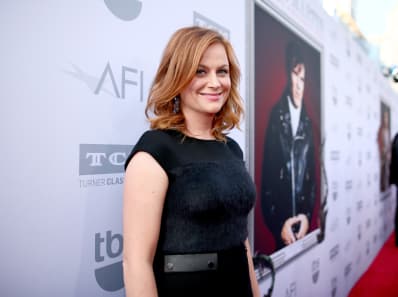 (Image credit: Christopher Polk/Getty Images)
Everyone, raise your "Be the Leslie Knope of Whatever You Do" coffee mugs in a toast to the poetic, noble land mermaid Amy Poehler. Netflix just announced that she will be bringing her luminous brilliance — plus her best friends and a lot of wine — to Netflix this year with a new movie called Wine Country.
And in true Leslie Knope fashion, Amy Poehler is doing all the jobs on that set. She'll direct and produce the movie as well as star in it. Good thing she'll have Maya Rudolph, Tina Fey, Rachel Dratch, and Ana Gasteyer there to help.
The movie will be Amy Poehler's directorial debut, and she announced "your new favorite movie" in the best possible way: With a phone video of the entire cast sitting around singing, "Forever and Ever Amen" in what looks like the best sleepover in history.
According to The Hollywood Reporter, Wine Country will be about a big group of longtime friends who go to Napa together to celebrate a 50th birthday. It already sounds hilarious, and the script is by Parks and Recreation and Saturday Night Live writer Emily Spivey, who is a treasure.
The only way to celebrate movie news this good is with animated GIFs, and the internet had them ready. (Fortunately, Amy Poehler has been helping the world express emotion through animated GIFs since 2003.)
Netflix is really working overtime to get in my good graces lately. Not only is its new cooking competition, Nailed It, completely wonderful — really, check it out, it's like a cross between The Great British Bake Off and Drunk History — but now it's bringing us Amy Poehler and the Avengers of comedy in a movie about wine country, and I could not be more excited.
What do you think of Amy Poehler's new movie?