Win a Spot on "Nailed It" with Netflix's Hilarious Contest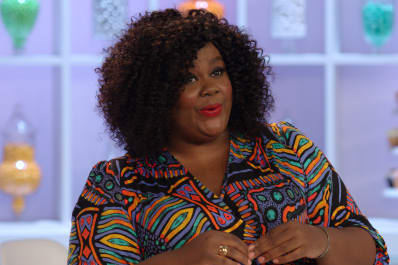 (Image credit: Courtesy of Netflix)
Netflix's Nailed It is my new favorite TV competition show, in large part because I am convinced it is a reality TV show that I could win. I'm not a particularly great baker, but I've watched a lot of cookie-decorating videos on YouTube, and if you put me in a room with two other people who don't really know how to bake, I think I could win.
Now Netflix is giving fans the chance to appear on an episode of the show as part of a contest called #BakeYourSelfie.
If you want a chance to have Nicole Byer shoot $10,000 at you with her money gun, you just have to make up a batch of sugar cookies using this recipe, then take a selfie and try to decorate a cookie to look like the selfie. Then post a side-by-side comparison of your photo and your selfie cookie to Facebook, Twitter, or Instagram using the hashtag #BakeYourSelfie, and make sure to tag @NailedIt so they can find your entry.
You have until April 20 to submit a cookie selfie, but some fans have started uploading entries, and the contest is producing some great results already.
Some of the entries are actually very good-looking, too. They might be too professional-looking for a contestant on Nailed It — they look more like the Pinterest samples the show's contestants try to model — but it's still like, "Whoa, you made a recognizable portrait out of a cookie!"
If you want to be on Nailed It, or if you are actually very good at decorating cookies and want to show your work to the world, make sure to submit your entry ASAP. And in the meantime, keep an eye on the #BakeYourSelfie hashtag, because it's a hoot.
Would you enter Nailed It's selfie contest?