Netflix Is the New Home of Great British Bake Off in the United States, Starting Next Friday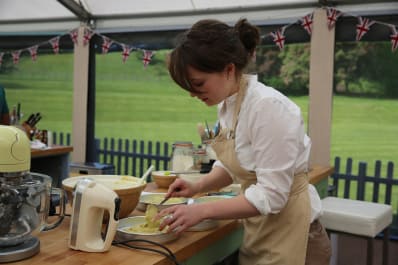 (Image credit: Courtesy of Love Productions)
The Great British Bake Off is coming back to U.S. television — but this time around it will be without Mary Berry (we'll miss her kindly fibs!) and the original hosts, Mel and Sue. Paul Hollywood (oh he of goateed glory) and new co-judge Prue Leith will be joined by comedian hosts Noel Fielding and Sandi Toksvig.
None of this is new knowledge — after all, this all-new cast already aired last fall when the beloved show moved from the BBC to Channel 4 in England. We even already reviewed it in part.
What is new is that it's finally coming in full to the U.S. (no more hunt and peck on YouTube) — and instead of PBS (GBBO's original partner in the United States) airing these episodes, it's going direct to Netflix.
Do you care to watch the show without Mary, Mel, and Sue? The consensus is pretty much that it's the same old, good old, heart-warming procession of earnest bakers finding victory and heartbreak in the confines of a very fancy tent. Yes, there's a different personality and a different vibe, but if you've missed the show and its soothing tones over the past few months, why not tune in?
Netflix airs the new season of Great British Bake Off starting Friday August 31. Tune in! (And brush up on your British Bake Off vocabulary knowledge first — do you remember all these words?)