Season 5 of Chef's Table Is About More than Magic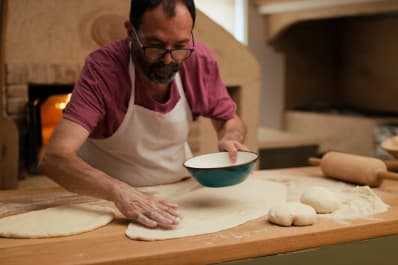 (Image credit: Courtesy of Netflix)
"It's lovely to talk about the magic and mysticism of food, but it's a lot of hard work and time invested," says Tunde Wey in the first episode of the fifth season of Chef's Table.
He's talking about Cristina Martinez creating barbacoa, but for me, the quote provides a framework for these four new episodes. In Season five, there's so much more than magic at the Chef's Table.
Read more: Watch the Trailer for Season 5 of Netflix's "Chef's Table"
The beauty of food can be a powerful tool to create a space to talk about issues that are so much bigger than what's on our plates. In the same way food calls us to the table, food television has the capacity to lure us in with lingering shots of a pile of fresh dumplings or a whimsical swirl of edible foam, and show us the people and systems that bring you to that shot. It can stoke our hunger for more than our next meal. It can stoke our hunger for change.
(Image credit: Courtesy of Netflix)
Season Five of Chef's Table Is the Best Season Thus Far
Season five is not better simply because it finally has more diversity — it is better because a diversity of perspectives creates a fundamentally better show. The brilliant cinematography, composition, and attention to detail is even more thrilling when it's applied to a wider variety of stories.
The season starts with a fleshy orange, palmed and smashed, erupting over a pile of raw meat. Cristina Martinez brings us to the table with comfort food, the dishes that unite a family over a Sunday meal. Her lamb barbacoa took a journey with her that started as a teenager in an abusive marriage in Capulhuac, Mexico. She wanted to provide a better life and education for her daughter, so she came to America and built a stunning career and community in Philadelphia. She is a powerful chef, an undocumented immigrant, and an outspoken advocate for change.
In episode two, a kebab reveals judgement, fear, and fading culinary traditions. Musa Dağdeviren's story includes labor inequality, war, and the loss of foods and techniques that were part of the fabric of Turkish cuisine. At the start of his episode, he shows us how when culinary schools treat French technique like the gold standard, we lose food culture. When food is homogenous, we lose; when food is exclusive, we lose.
"If the mind is not going to open from the beginning, it's not going to work," says Bo Songvisava, in episode three. At her restaurant, she uses the traditional Thai recipes and techniques that she fought to learn and preserve. We see the pressures she faces to make Thai food cheap and the challenges she encounters as she tries to build a more sustainable food system that includes artisan producers, small-scale farmers, and organic ingredients. "I decided to use my power as a chef to change the world," she says.
In the final episode, we see the antithesis of the dude-bro chef, an avant-garde mastermind who doesn't need to posture and shout to reveal his genius. Albert Adrià is dyslexic, and his struggles in school led him out of the classroom and into El Bulli, where his brother, Ferran Adrià, was head chef. At El Bulli, Albert became the quiet godfather of molecular gastronomy. He is protective of his team, and believes that "chefs get too much attention."
He repeatedly touches on his introversion, his small group of friends, and discomfort with "the role of leader." There is a quiet, generous power that we rarely see in the typical celebrated male chef.
(Image credit: Courtesy of Netflix)
Season Five of Chef's Table Finally Moves Beyond Aesthetics
This season of Chef's Table shows us how to move beyond the aesthetics and self-soothing properties of food television. It shows a picturesque shot of shepherds filling bay leaves with frothy goat's milk fresh from the udder, after revealing how a military coup can change your world all the way down to your taste buds. It shows how you can have a Top 10 restaurant in Bon Appétit, and a daughter whose visa has been denied twice and who dreams of hugging her mom and taking a picture together.
As a viewer and fan, I'm excited to see Chef's Table tell a wider, more interesting variety of stories. Previous seasons set a high standard in so many ways, but it's always had the capacity to be an even better show. I felt refreshed watching this season because it showed growth, and that's a combination that's more delicious than anything that I watched these four chefs cook.
We need to keep finding more ways to communicate about the issues surrounding food, and the food media we consume can provide a space for that. This season of Chef's Table is a model for what food television can offer.