"Chef's Table: Pastry" Is a Slap in the Face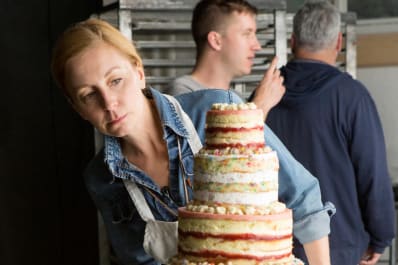 (Image credit: K C Bailey/Netflix)
At this point, Netflix's Chef's Table's meticulous approach to cinematography and storytelling feels like a slap in the face. After four seasons (and a spin-off), why does this show continue to be so intensely detail-oriented about everything except diversity?
Chef's Table: Pastry premiered last week and featured a 100% white cast, with 75% of that cast also men. Ever since the trailer revealed how little they care about changing their diversity problems, I wondered how they would tell the story of their only woman pastry chef.
Corrado Assenza, Jordi Roca, and Will Goldfarb star in three episodes with big heroic tales about saving local ingredients, triumphantly fighting for a place in a family, and finding professional redemption in Bali. The kickoff episode, starring Momofuku Milk Bar creator Christina Tosi, feels distinctly different.
(Image credit: K C Bailey/Netflix)
What Was Left Out from Christina Tosi's Episode
Tosi is the only person this season whom they repeatedly shoot baking in her home and her family's kitchen. After the opening credits, there are a lot of lengthy shots of Tosi eating junk food at a county fair, baking in her mom's kitchen with her family, and going for a run. After the snippet before the opening credits, it takes several minutes to show her baking in a professional kitchen. Chef's Table: Pastry firmly grounds her in the domestic realm, like they really want to drive home that she's a home cook, when actually she's a highly trained empire-building pastry chef.
---
Why don't we get more of a taste of Tosi's professional accomplishments in her episode?
---
I know that the vibe of her food is homestyle-type comforting desserts. But Milk Bar has eight locations, a retail line, and two cookbooks, and Tosi has two James Beard Awards and three nominations. She's a powerhouse. And while we get multiple homey shots of her baking or chowing down on a bacon-topped chili dog, large swaths of her career as a successful baker are ignored.
Momofuku Milk Bar opened 10 years ago. Tosi is only 36 years old. Why don't we get more of a taste of Tosi's professional accomplishments in her episode?
We have plenty of imagery of women baking at home. This is great! But we lack imagery of women baking and cooking in a professional context. When a show only features one woman, it's not a great move to repeatedly have her baking in home kitchens and not do that for any of the men in the series.
Tosi's episode highlights the press Momofuku Milk Bar got as it started to blow up. We see cheerful shots of her on Martha Stewart's show and on the covers of magazines. But none of her (many) awards are mentioned. She wasn't just being delightful on daytime TV — she was bringing home James Beard awards. Unlike Tosi, Jordi Roca and Will Goldfarb's awards are covered during their press sections.
And look, maybe it's all by accident. She has this lovely family and it's fun to watch them bake together. Maybe she likes to bake in her home kitchen. Who doesn't like to see someone order a pile of deep-fried candy bars? Magazine covers are noteworthy too, right?
Except when a show does such a bad job with representation, one episode becomes everything.
Sure, it can be by accident. Except when you have a giant Netflix budget and are known for your attention to detail, you don't really get to have that kind of "accident" anymore. Sorry.
---
Without women's stories, we're missing out on a real glimpse into the world of pastry.
---
There are about nine lost years in this episode and they are all from objectively the most interesting part of Tosi's career. The part where she moved beyond fear, beyond her mentors, beyond her origin story, and found serious success. We see the men who helped her along the way. We see the fear and trepidation at the start of her career. We leave her at the cusp of greatness. What happens next? What was it like to step into this powerful role, to create this business? What challenges did she face? After years in other people's kitchens, what did she do differently? Where did she fail? What comes next?
I left this episode with a deep knowledge of her favorite snacks and a lot of unanswered questions about her actual journey as a pastry chef.
(Image credit: K C Bailey/Netflix)
When We Don't Talk About Women in Pastry, We're Not Getting the Full Picture
I wish her story was given more care and respect, and I wish we could see it alongside other stories of women pastry chefs of all races. What do we lose when we don't have women's stories? There's so much that's unique to being a woman and a pastry chef — stories of operating in a mostly male space, juggling childcare and pastry hours, seeking respect in an environment that diminishes the work that goes into pastry. Women make up the majority of pastry chefs. Without women's stories, we're missing out on a real glimpse into the world of pastry.
I like the symmetry of Chef's Table: Pastry and "Equity at the Table" launching in the same two-week period. Chef's Table: Pastry is like an advertisement for why we need Julia Turshen's new database of a wide variety of food professionals who are women, with a focus on LGBTQ women and women of color. Here's proof that when a food show stays largely white and male, that show is lazy, not confused.