My Uncool Kitchen Tool: A Beat-Up, Totally Generic, Aluminum Pasta Pot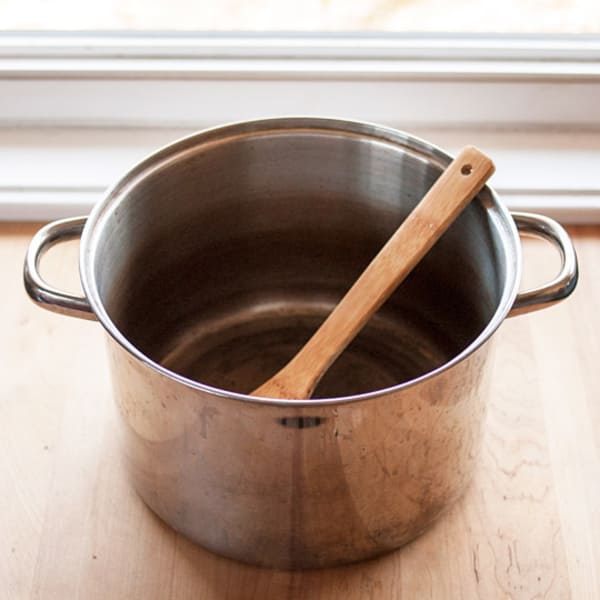 I am lucky to have many shiny, heavy, ergonomically-designed, and brand-stamped pots and pans in my kitchen, mostly amassed from my wedding registry a few years back. This battered old pasta pot that my mom gave me after college sticks out like a sore thumb. I worry that the other pans mock it after I go to sleep, and yet, I can't let it go.
There is definitely a certain amount of nostalgia associated with this little 2-gallon pot. It was my very first pot, you guys! Little ol' me. I had no idea how to season chicken or mince garlic, but I sure as heck knew how to boil a pot of pasta.
But I still probably would have gotten rid of it long ago if it weren't so darn useful. It really is the perfect size for making a big pot of pasta. It's also useful for making chicken stock and large batches of soup, and it serves as an extra mixing bowl on busy cooking day. As I've gotten more into homebrewing in the last few years, I gravitate toward using this pot when mashing grains for a small 1-gallon batch of beer and prepping sweet tea for kombucha.
I can't tell you the name or brand or even the definitive metal (aluminum? probably?), but I'm betting that you all have a similar pot — if not on a shelf, at least somewhere in your past. It's the workhorse of my kitchen, and it has earned its place in my cupboard.
Do you have a battered, old piece of cookware that you've been hanging on to?
Related: My Uncool Kitchen Tool: Paper Towels
(Images: Emma Christensen)