My Ten Minute, Ten Dollar Dinner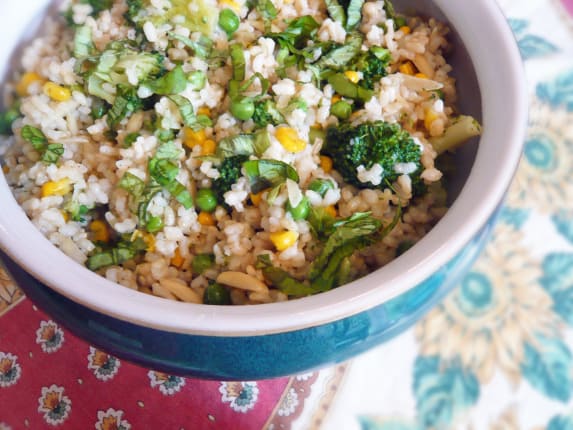 The beginning of the school year always takes me by surprise. I forget that I can't just throw a bunch of snacks and crudités on the table at a random time in the evening and call it dinner. It takes a minute to get back into the routine of regular meal times and cooking in advance, since my afternoon may be spent shuttling kids or haranguing them about homework. But I can always make Rice Dish, and I can always turn it into whatever I want.
It starts with cooked rice. I always check the day-old bin at my favorite healthy deli and grab all the cooked brown (or basmati or jasmine) rice they have. I'll take it all and freeze it. And if I eat lunch out and my meal comes with a side of rice, I ask for it in a to-go box. Though I'm perfectly capable of cooking rice, I'm even better at thawing it, and it's a lot quicker in a pinch.
I pour oil into my pan — olive oil for Italian Rice Dish, grapeseed for Chinese Rice Dish, a little bacon grease for French or Cajun — and add vegetables, whatever I find in the freezer. If I have fresh veggies that haven't been earmarked for another meal, they go into the pan, too. I toss in nuts, or egg if I'm making fried rice, for protein. Maybe a little garlic, but only if it's already chopped. Rice Dish does not require chopping, just ten minutes of my time. Salt, pepper and a dash of some kind of seasoning (Greek, Cajun, Italian, Chinese Five Spice, whatever I can reach) round out the flavor.

A small container of frozen chicken stock gives Rice Dish a creamier texture. I add a little stock if the pan gets too hot while the veggies are cooking and add the rest at the end, with the cooked rice. (Day old cooked rice can get a little dry. The stock brings it back to life.) On Italian night, I stir in a handful of Parmesan to the finished product, which tastes suspiciously like risotto, though I would never call it that. If the theme is Asian, I might add a dash of toasted sesame oil or fish sauce. if I'm feeling really frisky, I may add fresh basil, but only if one of the kids will go outside and pick it.
No one ever gripes about Rice Dish, in any form. Since the food is cooked before the preparation begins, it doesn't take more than ten minutes, maybe fifteen, but you can set the table and fold laundry while the veggies are thawing. It's cost effective and doesn't require a lot of planning or clean up. With plenty of vegetables, it's healthy and filling.
What do you make to feed your family in a hurry? What shortcuts do you take when time is of the essence?

(Images: Anne Postic)