My Ten Minute Lunch. Also? Dinner.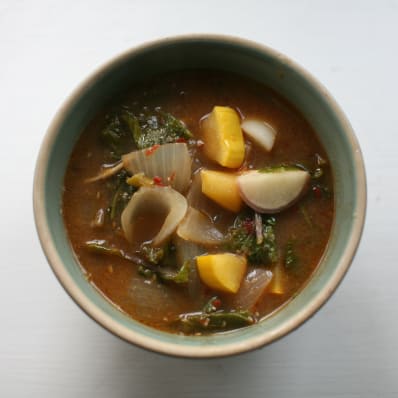 My best defense against an unhealthy, overpriced lunch during the week is something I've made myself, ahead of time. When I need to get back into the groove of healthy eating, or when I'm craving it, I make a big pot of miso soup to keep in the fridge. The soup can be whatever I want it to be. For a lighter meal, I add a handful of greens. If I'm hungrier, tofu or chicken does the trick.
I'm a fan of South River Miso. Their variety of bases — including chickpea, dandelion leek and azuki bean — keep my soup interesting. I might use the sweet brown rice version for a mild soup, reaching for dandelion leek when I crave a heartier meal.
And I've added all sorts of things to my soup. Leftovers from the night before can be enjoyed in a whole new way. A handful of cooked noodles hits the spot when I'm feeling under the weather. And this one time? I had a hankering for French onion soup. I kid you not, I stirred in some cooked onions and grated cheese, adding a few croutons after it was heated. Voilà! French onion miso soup! (The sweet brown rice miso worked best for that one.)
The recipe I use makes a pretty large batch, so I can use it for dinner, too. For the kids, I add more protein, usually chicken or tofu, and vegetables I know they like, like broccoli or spinach. And this is one meal where I can be a short order cook with little hassle. Once the base is made, customizing is a do-it-yourself process. One kid loves cauliflower, the others not so much. He adds it, the others go for broccoli. At various times, we've had one or more vegetarians in our family and they were free to keep theirs meat free. (Except, as some of you are probably thinking, for the bonito flakes used to make the broth. We explained that to the veggie kid beforehand and he was okay with it. But that's a whole 'nother post!)
What do you make ahead when you need a week of quick lunches?
(Image: Flickr member Christopher Paquette licensed for use under Creative Commons and Anne Postic)