My Great Outdoors: Bruce's DIY Rooftop Garden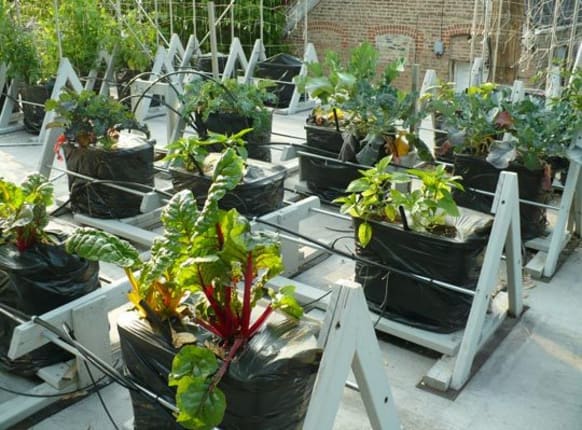 Name: Bruce
Location: Wicker Park, Chicago
Type of space: Garage rooftop vegetable garden
Last week, we profiled Heidi and Art's rooftop garden, and today, we're touring the garden of their neighbor and fellow Green Roof Grower, Bruce.
Tell us about your outdoor project and how you enjoy it.
Using readily available materials, I designed and built a "green roof" to grow vegetables. Aside from the obvious benefits, I enjoy talking to neighbors – and relative strangers – about it.
How did you create it?
It took some time to build. In 2006, I read an article on Earthboxes in the Chicago Reader that gave me the basic idea.
Recommended store, site, product or resource?
As I was looking for ideas on how to pull this off, I came across plenty of useful links. I first put them all on a Flickr page. Then last year, my friends Art and Heidi and I joined with another rooftop gardener, Russ, to start the Green Roof Growers site.
TOP ROW
• 1 Bruce builds his own sub-irrigated planters (SIPs) using Rubbermaid storage tubs.
• 2 The tubs are covered in garbage bags and secured in homemade wood and metal stands.
• 3 Tomatoes climb up a trellis of netting.
• 4 Colorful chard.
• 5 Ground-level compost bins.
BOTTOM ROW
• 6 Bruce shows off the inside of a homemade SIP.
• 7 The raised bottom is made from another Rubbermaid tub and two yogurt containers.
• 8 A ground-level potato box.
• 9 Bruce in the garden.
• 10 Herbs grow in a planter box.
More
Chicago Reader: The Future in a Box?
Bruce's Rooftop Garden Flickr set
Green Roof Growers
Related
Quick Tip: Five Ways to Re-Use Yogurt Containers
My Great Outdoors 2009: Heidi and Art's Green Oasis
(Images: Joanna Miller)