My Great Outdoors: Erin's Edible Balcony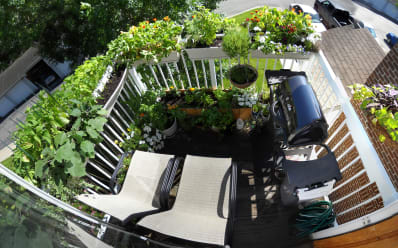 Name: Erin
Location: Ames, IA
Type of space: Balcony
Tell us about your outdoor project and how you enjoy it: I wish I could live out here constantly! Most of the balcony taken up by the plants, but we squeezed in a couple chairs and the grill, which gets fired up almost every night during the summer. The planters are overflowing with vegetables, edible flowers and herbs. I use something from out here with almost every meal I cook. I love tending the plants, trying new arrangements, and watching them grow. It takes a bit of time to keep it all maintained – on average, a couple hours per day – but it's very meditative and therapeutic. Sometimes I just sit and stare; even from inside the apartment the view is stunning.
How did you create it? We lived in a basement apartment before we moved here late last summer. The view is pretty nice to begin with – a boxelder tree is just outside, and across the access drive and a few garages is a greenway with a creek and bike trail – all very green and peaceful. When we moved, I was so excited to have an outdoor space! Over the winter I perused several balcony gardening blogs, read container gardening books and ordered plants/seeds. I gradually added planters this spring. Most were purchased, a few are cheap dishpans, and one big box I built from mis-cut lumber. When planning what I wanted on my 6x8' balcony, I thought I'd limit myself to vegetables, fruits, herbs and edible flowers. Although most of my plants fit this original scheme I added a few ornamentals along the way. I recorded the process in my blog:
Recommended store, site, product or resource? McGee & Stuckey's: The Bountiful Container was invaluable for planning and planting. I can't recommend it enough.