My Great Outdoors 2009: Heidi and Art's Green Oasis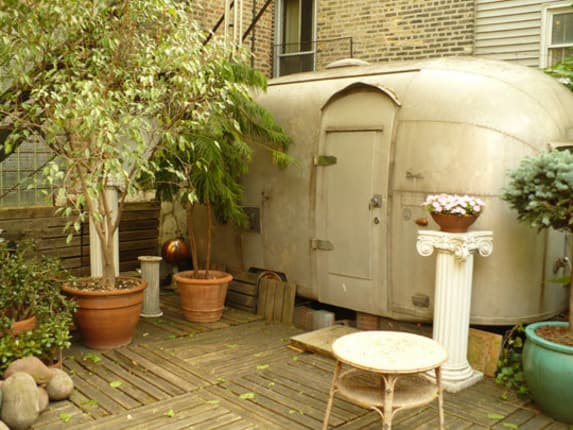 Name: Heidi and Art
Location: Wicker Park, Chicago
Type of space: Backyard and rooftop
Some 20 years ago, Heidi and Art pulled their Airstream trailer right into their new home: a former disco in Chicago's Wicker Park neighborhood. Today, the Airstream is still there, but they've transformed the building into a truly unique living and work space. Heidi was kind enough to give us a tour of their backyard hideaway and impressive DIY rooftop vegetable garden – complete with homemade Earthbox-type containers, greenhouse and beehive.
Heidi and Art joined up with two of their neighbors to form the Green Roof Growers, using various forms of sub-irrigated planters (SIPs), including Earthboxes. Together, they run a web site with a vast amount of information on SIPs and rooftop gardening.
Tell us about your outdoor project and how you enjoy it:
Fresh organic food on the roof. It doesn't get any more local than this. We were motivated in Year 1 to make our own SIPs after reading a piece on Earthboxes in the Chicago Reader. That, and our in-ground sun exposure had all but vanished due to a tree that had grown huge in the 20 years we've been here. On the roof, we have as much sun as nature provides.
How did you create it?
Art and I made our SIPs out of recycled 5-gallon buckets from the leaky-roof years. (Fellow Green Roof Grower Bruce uses SIPs made from Rubbermaid tubs, while Russ uses Earthboxes.) We're not ideological about how anyone grows. We're excited by the massive amounts of vegetables produced by sub irrigation, which boosts yields and also conserves water. SIPs can be placed anywhere – on your roof, in your yard, on a balcony, or on top of a toxic vacant lot.
As a neighborhood group, we've enjoyed trading experiences and produce, and this year we gathered in February 2009 to pore over seed catalogues and order our seeds as a group. Bruce started the seeds for our three rooftop gardens and we've been reaping the bounty since April, beginning with cool-weather greens.
Recommended store, site, product or resource?
Our blog has lots of information on sub-irrigated planters and related DIY projects.
TOP ROW
• 1 One of Heidi and Art's vintage Airstream trailers anchors one corner of the backyard patio.
• 2 A table and chairs ready to entertain.
• 3 Potted plants of every size.
• 4 Back here, you almost forget you're in such a busy neighborhood.
• 5 Getting to the rooftop garden is easy. You just climb out an upstairs window and head up these stairs, which Heidi and Art found used and gave a second life. The canoes make the climb a little more interesting.
MIDDLE ROW
• 6 Taking in the rooftop vegetable garden. This is serious business.
• 7 Tomato plants up close and personal.
• 8 The first tomatoes!
• 9 Peas twisting their way up the trellis.
• 10 Melon plants waiting for warmer weather in the greenhouse.
BOTTOM ROW
• 11 A new rainwater collection system – water runs from the greenhouse gutter into a storage bucket and then to a small pipe along a row of plants.
• 12 Clamps control the flow of water.
• 13 A burst of broccoli.
• 14 Heidi with her tomatoes.
• 15 The beehive.
Next week, we'll profile another Green Roof Grower's space.
More
Green Roof Growers
Chicago Reader: The Future in a Box?
(Images: Joanna Miller)