My Favorite Travel Souvenir: Japanese Ice Cream Spoons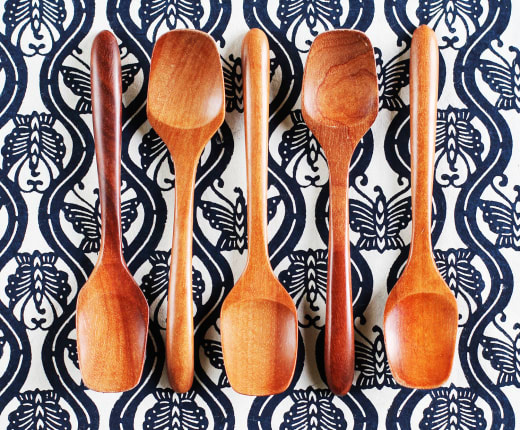 I've wanted to write about my Japanese ice cream spoons for years, but because I haven't been able to find them anywhere outside of Japan, it just didn't seem fair to rave about how they are the perfect spoons for eating ice cream, how my guests always love them, and how beautiful they are if you, the readers, couldn't buy a set of your own. But since we are talking about special travel souvenirs this week, now seems like the right time to share these spoons that can only be found in person, at a particular place.
Ice cream spoons in Japan are small, with flat, squared-off bowls that make it easy to cut into a frozen scoop and cleanly eat it. Although it sounds a little silly to have a special spoon just for ice cream, they do make the eating experience a little easier and more pleasant. (Plus, like so many goods in Japan, they are very cute with their small size and unusual shape.)
So I was excited to find wood versions of the classic ice cream spoon at a pottery fair in Central Japan. I bought five and added them to my collection of Japanese kitchen souvenirs: chopstick rests, a tray for holding flavored salts, a mortar and pestle. Six years later, it's the spoons and only the spoons I wish I had bought more of. They come out whenever I serve ice cream to friends, who always say, "The ice cream spoons!" because they now love them as much as I do.
Beautiful, functional and, as far as I know, only available at an annual festival in an old, small town in Gifu-ken, these spoons also signify what makes Japanese artisan-made goods so special. But I promise that if I ever find an online source for these spoons, I'll share it right away — right after buying a dozen more for myself.
(Image: Anjali Prasertong)
Kitchn supports our readers with carefully chosen product recommendations to improve life at home. You support us through our independently chosen links, many of which earn us a commission.