My Favorite Thing About Jeni's New Spring Ice Cream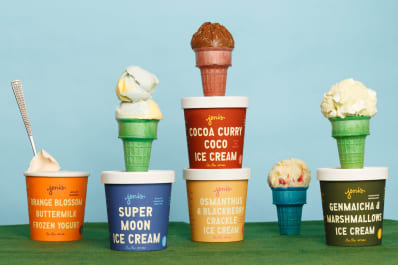 (Image credit: Jeni's Ice Creams)
As far as I am concerned, there is never a bad time to eat ice cream. So when Jeni's comes out with new spring flavors, you know who doesn't care that it's raining and cold out? That's right — me. I also don't care that it's too late for an afternoon snack and that my ice cream tasting will inevitably be something I call "dinner." It's work(ish). Also, I love ice cream. And tomorrow I'll eat broccoli and only broccoli.
There is a lot to love about Jeni's spring collection. For starters, there's the name: "We're Not From Here. You Belong Here." Without getting too into politics, I can't get over how fitting this is right now, this idea of strangeness and familiarity, us and them — especially since I know that these flavors weren't developed overnight!
There's also the design. While I am a minimalist at heart, ice cream should be colorful and these pints do not disappoint! And, of course, there are the flavors: Right now, only two are available, and they are both leg-twistingly good.
(Image credit: Jeni's Ice Creams)
The first is Supermoon and it's actually two flavors — blue violet and vanilla marshmallow — in one. It's blue and white and reminds me of the moon, but tastes like cereal milk in the best possible way.
The second, Orange Blossom Buttermilk Frozen Yogurt, sounds like it's going to be exotic and it is a little fancy, with its neroli and tangerine essential oils. To me, though, it's a Creamsicle. A really, really good one.
But my very very favorite thing about these pints is not any of these things. Can you guess what it is?
If you've gotten your hands on one of the new pints, perhaps you'll have turned the pint around to take a look at the nutrition information. Maybe not. I can't blame you; ice cream is not a health food, but it is a happy food. But anyway, I did and this is what I discovered.
I was so pleased to see a redefined serving size: A pint has three serving sizes, not four. Which, let's be real, is just TRUE. I know this because a pint has never fed four people, nor has it lasted me four nights. Three people, or three nights, is totally realistic. Bonus: It means you don't have to do that mental calorie calculation I know I'm sometimes guilty of. (If I ate more than a quarter but less than half, how much is that?)
Note: This change isn't specific to Jeni's; according to the FDA 2/3 cup is the new 1/2 cup.
If you are not as blown away by this as I am, that is totally fine. But it makes me even more excited to try the next three flavors — Genmaicha & Marshmallows, Osmanthus & Blackberry Crackle, and Cocoa Curry Coco — which are coming April 14, just in time to celebrate being done with my taxes (or to help me through doing my taxes at the last minute).
Do you agree? Is this the smartest, best thing to happen to ice cream?