My Broken Slow Cooker: Who Will Cook for Me Now?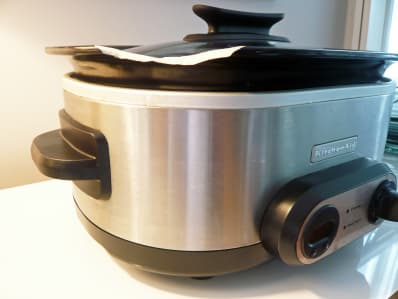 I love my slow cooker. No one cooks for me, and it feels great to walk into the house after a long day and smell dinner. My slow cooker is like a mother to me. There she is, at the end of the day, waiting in the kitchen with something delicious, warm and comforting.
Much like a tortured teenager doesn't always treat her mother as well as she should, I'm not gentle with my slow cooker, and I've broken the liner twice.
The first time, it cracked clear in half. I went online, hoping to order just the liner, only to learn that my personal KitchenAid slow cooker was discontinued. My mother was the only person in the world who cooked for me regularly and, when she died, the slow cooker she gave me a few Christmases ago was all I had left (to cook for me, that is). I couldn't bring myself to get a new one, so I tracked down my discontinued model on eBay. Hooray!
Now, I've broken it again. I emailed KitchenAid, hoping one of the new liners would fit my old model. None of them will, but I can still order a replacement liner, even though it isn't listed on the website. (Who knew? In the future, I'll know not to give up on an old favorite in need of a new part just because I don't see it online.)
But, here's the thing. I've broken it twice. Is it possible I need to explore other options? As much as I love the cooker, maybe it's too unwieldy for me. Or maybe there's a reason it was discontinued; maybe the liner will break again.
What should I do? Order a new liner or start from scratch and choose a whole new slow cooker? I need to decide soon, because I miss the brief moments of believing someone has cooked for me. I'm leaving it to you, Kitchn readers. And if you think I should buy a new one, hit me with your recommendations, please!
(Image: Anne Postic)