This Is America's Favorite Grocery Store for 2018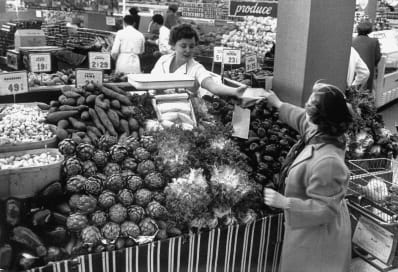 (Image credit: Ralph Morse/Getty Images)
We all have our favorite grocery stores. Are you a Whole Foods, or a Publix? Do you care more about low prices, good produce, or a huge selection, or do you go to whichever store has the most convenient location? Well, the annual Market Force grocery store survey for 2018 has been released, and it looks like Wegmans is America's favorite grocery store for the third year in a row.
Wegmans is a regional grocery store chain, so it might not be familiar to everyone, but people who know it really love it. Wegmans is based in Rochester, New York, and has 96 stores in Maryland, Massachusetts, New Jersey, New York, Pennsylvania, and Virginia. Last year Wegmans tied for the top spot with Publix, and the year before that it unseated Trader Joe's from its position as America's favorite grocery store. Trader Joe's had held the top position from 2012 through 2015.
Wegmans, Publix, and Trader Joe's are all known for having extremely friendly, happy employees and for being good places to work. Wegmans and Publix also have hot food bars that customers absolutely rave about.
According to People, this year the annual study surveyed approximately 13,000 people and had them rate their favorite grocery stores on different criteria, like cleanliness, service, best products, and value. The competition between the top three was extremely close. Wegmans scored 77 percent on the customer loyalty index, while Publix came in at 76, and Trader Joe's scored 75 percent. Aldi came in fourth with a score of 70. (Of all the stores on the list, Aldi scored highest for value.)
According to the people who took the survey, the most important factors when choosing a favorite grocery store were convenient location, value for money, and good sales and promotions.
According to NBC, Safeway and Walmart came in at 21 and 22 on the list, respectively. Here's the full list of the most popular grocery stores in America, in order.
1. Wegmans
2. Publix
3. Trader Joe's
4. Aldi
5. H-E-B
6. Fry's
7. Winco Foods
8. Costco
9. Harris Teeter
10. Sam's Club
11. Whole Foods
12. Hy-Vee
13. Kroger
14. Food Lion
15. Shop Rite
16. Meijer
17. Winn-Dixie
18. Target
19. Stop & Shop
20. Giant Food Stores
21. Safeway
22. Walmart
What's your favorite grocery store?