5 More Bad Grocery Shopping Habits You Need to Break ASAP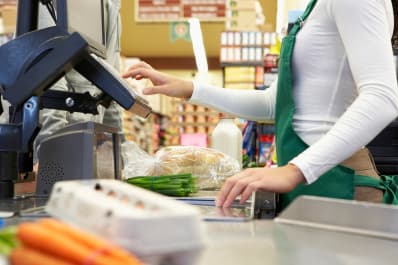 (Image credit: Noel Hendrickson/Getty Images)
Who knew that our post about the bad grocery shopping habits we all need to break would turn into a tell-all in the comments section? (Check it out here.) After reading through the very passionate collective venting session, we noticed a few common gripes that we left off our list the first time around.
And so, here are five more bad grocery shopping habits to kick to the curb, suggested by Kitchn readers.
(Image credit: Jill Chen/Stocksy)
1. Not taking inventory before you shop.
Here's one reader confession we can all relate to: "I need to take inventory before I shop! I've ended up with seven jars of salsa because they get pushed back in the cupboard and I don't see them. If I know before I go, I'm less likely to buy redundant items."
Before you hit the supermarket, survey your pantry, fridge, and freezer. Chances are, you have something on your list already stashed away.
2. Bringing people who add stuff to your cart.
Step one: Identify the culprit (whether it's your husband, wife, boyfriend, girlfriend, fiancé, child, or roommate). Step two: Very nicely say that you're going to shop solo. One reader admitted the following: "Whenever my husband shops with me, interesting items that aren't on the list seem to mysteriously find their way into the shopping cart."
(Image credit: Jelena Jojic Tomic/Stocksy)
3. Not bringing your own grocery bags.
Another reader smartly suggested to "bring your own shopping bags so you don't buy more than you need." The next time you shop, challenge yourself to strictly stick to buying items that will fit in the bags that you brought. Then you'll only purchase what you can carry, saving some cash along the way. You could also save even more money if your store shaves off a few cents for every bag you bring!
(Image credit: Noel Hendrickson/Getty Images)
4. Not shopping the perimeter first.
"Shop at the edges of the store first and stay away from high-cost/low-nutrition items in the center aisle," says one reader. Follow this smart tip by filling up your cart with fresh produce and other refrigerated items like eggs, dairy, and meat. By the time you get to the middle of the store, you'll have less of an urge to splurge on expensive, less healthy snacks.
5. Shopping with just a cart or a basket.
In our last post, we recommended shopping with a basket instead of a cart to save money, but one reader suggested this savvy move as an alternative: "Put a basket in your cart. It'll stop you from overloading your cart, but the basket won't feel too heavy to carry." Mind. Blown. I'm totally trying this on my next grocery haul.
Got anything else to add? Maybe we'll do yet another follow-up post!