A Mom of 2 on What It's Like Feeding Her Family in Morocco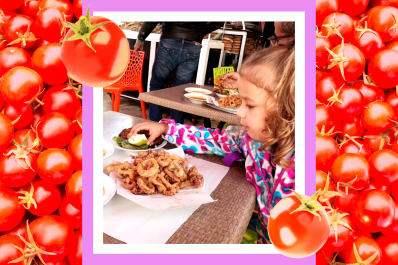 (Image credit: Courtesy of Tiffany Tahiri)
In December 2017, Tiffany Tahiri moved with her two girls to Casablanca (her husband stayed in the United States), which is on the coast of Morocco in northern Africa. They have lived here on and off for 10 years now.
We spoke with Tiffany about how her eating life is different in Casablanca with her two girls.
First, Tiffany notes that one huge difference about living in Morocco is the way people treat food — eating is a more enjoyed and enjoyable experience there. "Morocco is an amazing country in many ways, and food is one of the reasons," she explains. "We are healthier and eat a far greater variety of produce here than we do in the States. This is one of the greatest places on Earth to live … and eat!"
What is your general approach to feeding your family?
I try to hit the major food groups. Protein is a priority, especially with two growing girls. Sugar is endemic here in Morocco, so a lot of what we try to do is avoid sugar.
(Image credit: Tiffany Tahiri)
How is grocery shopping different in Morocco?
We shop daily. Produce goes bad in days, if not hours, so we shop at our local marché pretty much every afternoon. This means our refrigerator is always empty! We use only fresh ingredients now.
What do you eat for breakfast?
We walk about two kilometers to school, so breakfast is now a mix of yogurt and leftovers (such as lentils or pasta), and then anything that's portable — usually bread with cheese. We eat and drink en route to school. I now drink instant coffee, for the first time in my life. It's terrible, but my sleep is more important than the time I would need to percolate coffee.
And what do you pack for your kids for lunch?
The kids eat lunch at school, which has been amazing. My two girls eat a hot meal every day, with meat if they choose.
(Image credit: Tiffany Tahiri)
How has your eating changed since moving to Morocco?
We never eat meat, which is new. It's not a conscious choice, but I have cooked meat maybe twice since arriving here. In the States, meat was a staple. We eat a lot of beans. They are inexpensive, pair well with produce, and are easy for me as a mom with two kids and two jobs.
What are the foreign foods you didn't eat before that you're loving now?
We love snails from one vendor deep in the Marrakesh medina's souks. We often order "mokh" (lamb's brains) tajine as a treat, and we enjoy sheep's head as well. When we eat out, we love kebda (liver brochettes). My eldest daughter is obsessed with avocado smoothies.