5 Awe-Inspiring Dishes That Don't Require Mission: Impossible-Style Stunt Work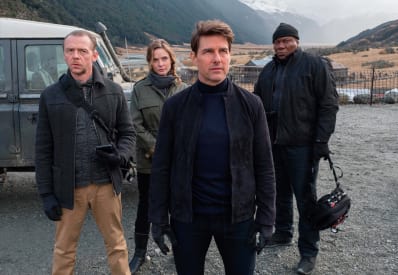 (Image credit: Paramount Pictures)
Tom Cruise seems to have pulled off the, well, impossible in the latest installment of his action mega-franchise, Mission: Impossible – Fallout. Despite being 56 years old, the Hollywood icon still does all of his own stunts while portraying globe-trotting secret agent Ethan Hunt. In this particular film — which had the biggest opening weekend and is the best reviewed in the series yet — that includes jumps from one building to another, a helicopter chase, free-climbing a cliff, and doing a HALO jump (that's high altitude, low open) out of a plane at 25,000 feet.
It got us thinking: What are some intense culinary stunts that us regular folks could, perhaps, pull off? There are plenty of dishes that sound impossible indeed, but with the right recipes and a little trial and error, even relative kitchen novices can handle. In fact, the only thing that might impress your guests more than serving these highfalutin items is Cruise himself showing up for dinner.
1. Chocolate soufflé
This most decadent of desserts is the kind of tricky dish fine culinary schools might use for a final exam. Follow these tips for soufflé success, and when you pull the perfectly puffed pastry out of the oven, you'll feel like you can leap across buildings.
Get the recipe: How To Make a Chocolate Soufflé
2. Paella
Tell potential guests you'll be serving this classic Spanish rice, meat, and seafood preparation, and they'll come over faster than Cruise's constantly running character. Our weeknight version is shockingly easy to pull off.
Get the recipe: Weeknight Skillet Paella
3. Boeuf Bourguignon
While it might seem as hard to make as it is to pronounce, this impossibly tender (and appropriately international) red-wine braised beef stew is a perfect set-it-and-forget-it meal for your slow cooker.
Get the recipe: Slow-Cooker Boeuf Bourguignon
4. Risotto
No, you do not have to constantly stir this northern Italian rice dish until your arm falls off in order to achieve maximum creaminess. Just ditch the traditional preparation and let your oven do all the work; promise we'll keep it top secret.
Get the recipe: How To Make Easy Oven-Baked Risotto
5. Coq au Vin
Traditional coq au vin is one of those dishes that takes forever to make. That's why this weeknight version will make you feel like a hero. There's no blanching bacon or reducing sauce, but I promise you it's a guaranteed blockbuster.
Get the recipe: Weeknight Coq au Vin