Mind the Gap: Fresh Ideas For Decorating the Kitchen Soffit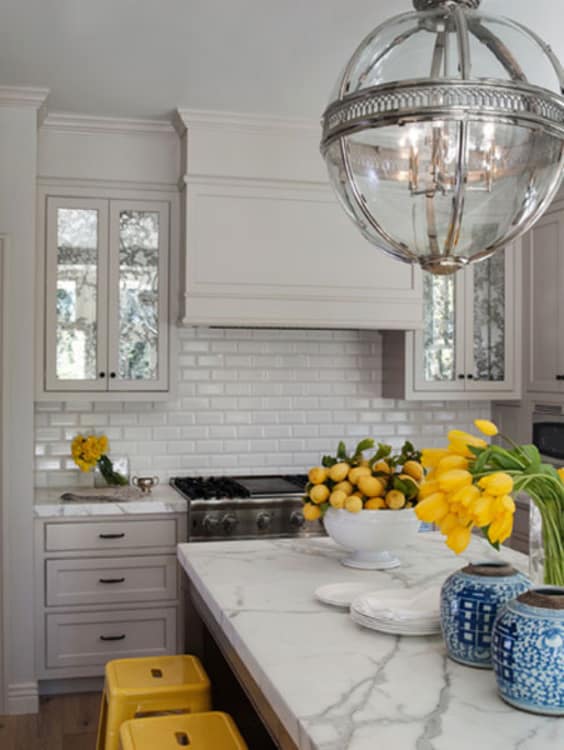 You know that awkward gap of wall surface left between the tops of most kitchen cabinets and the ceiling? It's generally about twelve inches in depth and has long puzzled renters and homeowners alike when it comes to decorating, leading to such ideas as hanging rows of plates
waaaaaay
up high or squeezing in a few silk philodendrons (in the case of the ledge instead of the soffit). Here are some fresh ideas if you're bothered by the gap in
your
kitchen:
Cover it in moulding
Making the entire soffit appear as moulding is a great look for traditional cabinets. You don't have to cover the entire soffit: you can try just some crown moulding at the top like in Marsi and Robert's kitchen above.
Paint the ceiling
This solution doesn't even have to involve touching the soffit. If you paint the ceiling in an unexpected color, and keep the soffit the same color as your cabinets, it will help to blend the soffit in with the cabinets. We think this approach really works in the example above. In the example above, the soffit is covered with beadboard, but this doesn't have to be the case to pull off this idea.
Extend the soffit over the entire ceiling
If you're an owner or if you have a really open landlord, the soffit can always be extended over the entire kitchen. This is best if you have otherwise high ceilings or if you live in a house or loft with an open plan and need a way to define the kitchen. Even if you don't have particularly high ceilings, the soffit can be wider than the cabinets and create an area for lighting (as shown in the 5th image up top).
Have you done something really cool or outside-the-box with your kitchen soffits? Please share your idea with us below!
This post was requested by RetroGeek for Reader Request Week 2013.