Middlewest: A New (Deconstructed) Cooking Magazine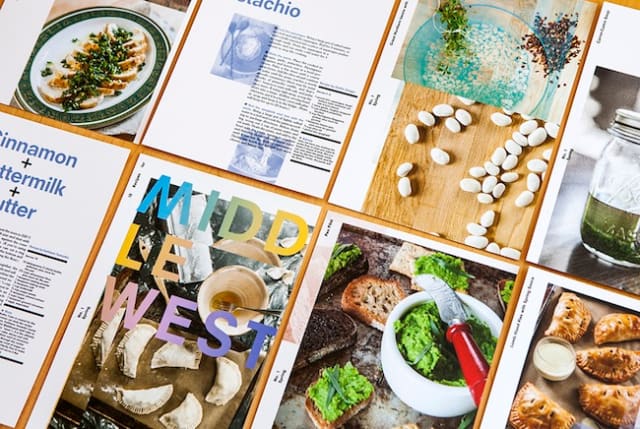 Do you remember recipe cards, those preprinted cards that were often sold in sets or by subscription? They would have a photo of the recipe on the front and the recipe was printed on the back. For some reason, I've always associated them with meals made from condensed cream soups and canned green beans. But the people at Middlewest have kicked that notion straight out of my head with their beautiful new food magazine, which consists of 10 double-sided recipe cards and nary a canned green bean in sight. 

The makers of Middlewest are Chicago-based food and photo editors for Chicago Time Out. David Tamarkin, the editor, and Erica Gannett, the photo editor, both have extensive experience in traditional food magazines but wanted to create something different with Middlewest. The project started out when Tamarkin had decided to make a recipe card of his family's favorite coffee cake as a holiday gift and quickly grew from there into a successful Kickstarter campaign.
For $18, you receive 10 large, full color recipe cards made in the traditional way with a photograph on the front and the recipe printed on the back. But the resemblance ends there. Middlewest's recipes are modern, fresh and seasonal. Each recipe is titled with three main ingredients such as Chicken + Mint + Preserved Lemon or Basil + Cream + Roasted Strawberries.  
There are four entrees, one soup, one appetizer, three dessert , and one cocktail card. The appetizer sounds delicious: a fresh pea puree made with fennel and tarragon, served on a crostini. Also intriguing are a spaghetti dish made with an asparagus and pistachio pesto and a dessert made with fresh strawberries and basil cream.
The cards are made from sturdy card stock and coated so they can be wiped clean. The only thing I don't care for are the layout of the recipes. I would be happier with less design elements and larger type. But they are well-written with funny, personal touches and I'm looking forward to giving them all a try.
I also really enjoyed the literary supplement included in the packet and would love to see it grow. This issue had three very short pieces as well as a short editorial from Tamarkin about an emerging restaurant street in Cincinnati. The cards and supplement come tucked into their own white envelope.
All in all I think it's a good project. Some people may bristle at the price, but it is a very small run (my packet was 733 out of 1000 - they're all hand numbered) and it's best to view this as an art project as much as a cooking magazine. I'm looking forward to their second release which is scheduled for later this year.
Find It! Middlewest, $18.00 per issue. Available by subscription.
Apartment Therapy Media makes every effort to test and review products fairly and transparently. The views expressed in this review are the personal views of the reviewer and this particular product review was not sponsored or paid for in any way by the manufacturer or an agent working on their behalf. However, the manufacturer did give us the product for testing and review purposes.